Ex-FBI #2 McCabe asks for immunity before talking to Senate about Clinton emails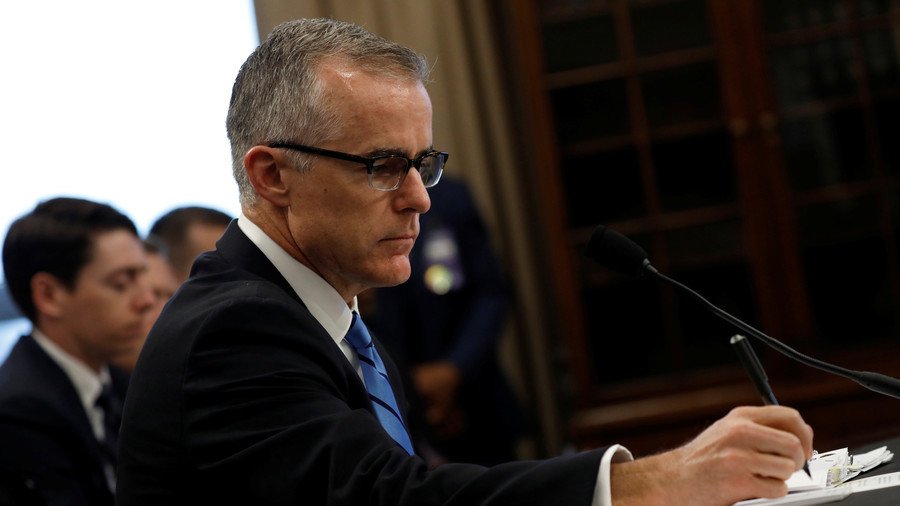 The former deputy director of the FBI, Andrew McCabe, is reportedly seeking immunity from prosecution before testifying at a Senate Judiciary Committee hearing about the FBI's handling of the Hillary Clinton email investigation.
McCabe is accused of authorizing the leaking of information about the FBI's probe into the Clinton Foundation to the media. He is now reportedly willing to provide emails showing that he was "working with FBI colleagues to correct inaccuracies before certain media stories were published" in October 2016, according to a letter his attorney, Michael Bromwich, wrote to Senator Chuck Grassley (R-Iowa), chair of the Senate Judiciary Committee, on Tuesday, CNN reported, citing a letter in the network's possession.
"Under the terms of such a grant of use immunity, no testimony or other information provided by Mr. McCabe could be used against him in a criminal case," Bromwich wrote. However, if the committee declines to grant McCabe immunity, he would "have no choice but to invoke his Fifth Amendment privilege against self-incrimination."
Grassley has scheduled hearings for next week, reportedly inviting McCabe, former FBI Director James Comey and former Attorney General Loretta Lynch to testify about the Obama administration's probe into Clinton's use of a private email server while she was serving as secretary of state. In July 2016, Comey publicly announced Clinton would not be charged during an unprecedented press conference, clearing the way for her presidential bid.
Attorney General Jeff Sessions officially fired McCabe in March, two days before his official retirement date, citing a report by the Department of Justice inspector general accusing the deputy director of lying to investigators about leaks to the press in the run-up to the 2016 presidential election.
One of the key testimonies against McCabe in the inspector general's report came from Comey. If McCabe can produce evidence exonerating him from charges that he leaked to the press, that would mean Comey was the one "lacking candor." This could spell trouble for the former director, who was reviled by Democrats after Clinton's defeat, only to become their hero after getting fired by Trump in May 2017.
The FBI's conduct in 2016, during both the Clinton email investigation ("Midyear Exam") and the counterintelligence probe into the Trump campaign ("Crossfire Hurricane"), has become a battlefield in US partisan politics. Democrats have painted Comey and McCabe as honorable public servants that were unfairly targeted by the Trump administration in an effort to somehow obstruct the probe into Trump's alleged collusion with Russia.
On the other hand, Republicans have accused the FBI leadership of being part of an Obama administration plot to delegitimize Trump's election through surveillance of campaign advisers and using an informant to provide grounds for it.
Meanwhile, the FBI's top counter-intelligence official, Bill Priestap, spent eight hours on Tuesday testifying behind closed doors before a joint congressional committee of the Judiciary and House Oversight members. Priestap was the direct supervisor of Peter Strzok, the FBI agent who participated in the Clinton investigation, the Trump probe, and who even served on the Special Counsel Robert Mueller's team, until the emergence of thousands of text messages he exchanged with his paramour, Lisa Page, one of McCabe's aides.
Both Strzok and Page were open about their disdain for Trump, and, at one point, discussed an "insurance policy" against his election in McCabe's office, according to the text messages.
Think your friends would be interested? Share this story!
You can share this story on social media: