$17 million and counting: Mueller investigation cost to US taxpayers revealed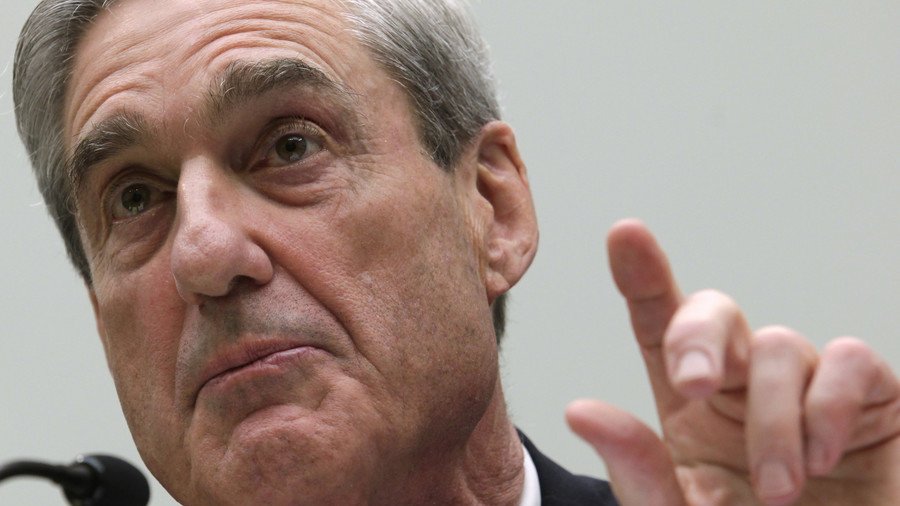 Special Counsel Robert Mueller's ongoing investigation into alleged collusion between the Trump campaign and Russia has cost the US taxpayer a whopping $17 million to date and returned no evidence of collusion.
The investigation spent approximately $10 million between October 2017 and March this year, according to a Department of Justice report released Thursday. The department had previously spent $6.7 million between May 2017 and September 2017.
Of the latest $10 million reported, Mueller's office spent $2.7 million on salaries and benefits, just over $500,000 on travel expenses, and just under $30,000 on office supplies.
President Donald Trump tweeted the news Friday morning, along with his often repeated assertion that there was "No Collusion, except by the Democrats."
A.P. has just reported that the Russian Hoax Investigation has now cost our government over $17 million, and going up fast. No Collusion, except by the Democrats!

— Donald J. Trump (@realDonaldTrump) June 1, 2018
After an earlier FBI investigation, Mueller was appointed in May to lead an investigation into "any links and/or coordination between Russian government and individuals associated with the campaign of President Donald Trump, and any matters that arose or may arise directly from the investigation."
While the investigation has thus far found no links or coordination, 19 individuals have been indicted by Mueller. These include thirteen alleged Russian internet 'trolls', as well as members of Trump's campaign team.
Trump's former campaign chairman, Paul Manafort, was indicted on unrelated charges of tax and bank fraud dating back to 2005 and 2007, and charges of failing to properly register his lobbying work for the Ukrainian government between 2006 and 2015.
A federal judge in Virginia questioned these charges last month, and claimed that they were beyond Mueller's remit. Instead, the judge argued, the charges were aimed at pressing Manafort to provide incriminating information against Trump.
"You don't really care about Mr. Manafort's bank fraud," Judge T.S. Ellis said to one of Mueller's prosecutors. "What you really care about is what information Mr. Manafort could give you that would reflect on Mr. Trump or lead to his prosecution or impeachment...The vernacular is to 'sing'."
Mueller's office has so far spent $879,000 of taxpayer money per individual indicted, enough to prosecute 40 homicide cases. Based on data from Rand Corporation, for the price of the entire investigation so far, the US Department of Justice could have convicted as many as 770 murderers.
Last December, Mueller discovered that Trump's then-National Security Adviser, Michael Flynn, lied about a conversation he had with Russia's ambassador to the US, Sergey Kislyak. While newspapers ran titillating headlines like "Michael Flynn Pleads Guilty to Lying to the FBI and Will Cooperate With Russia Inquiry," the circumstances surrounding the guilty plea revealed that Mueller was actually grasping at straws: Flynn had indeed met with Kislyak – to request that Moscow refrain from retaliating against sanctions imposed by the outgoing Obama administration in December 2016.
With the collusion narrative falling apart, Mueller's focus shifted to building an obstruction case against the President, based on his firing of FBI Director James Comey last year. Comey claims that Trump asked him to end an investigation into Flynn, while Trump insists that Comey was fired for botching an FBI investigation into Hillary Clinton's use of a private email server.
Rudolph Giuliani, Trump's personal attorney, said recently that he expects Mueller's probe to wrap up by the beginning of September. Having a president under investigation, he said, would unfairly influence the upcoming midterm elections.
"You don't want another repeat of the 2016 election where you get contrary reports at the end and you don't know how it affected the election," Giuliani told the New York Times, citing Comey's decision to reopen the Hillary Clinton email investigation days before the polls opened in the US presidential election.
Trump has repeatedly slammed the investigation for its political bias, and accused Mueller of dragging it out to hurt Republican chances in the midterms.
"The 13 Angry Democrats (plus people who worked 8 years for Obama) working on the rigged Russia Witch Hunt, will be MEDDLING with the mid-term elections, especially now that Republicans (stay tough!) are taking the lead in Polls. There was no Collusion, except by the Democrats!" Trump tweeted on Tuesday, referring to the fact that 13 out of Mueller's 17 investigators are Democrats.
The 13 Angry Democrats (plus people who worked 8 years for Obama) working on the rigged Russia Witch Hunt, will be MEDDLING with the mid-term elections, especially now that Republicans (stay tough!) are taking the lead in Polls. There was no Collusion, except by the Democrats!

— Donald J. Trump (@realDonaldTrump) May 29, 2018
You can share this story on social media: