Chilling video shows Parkland shooter plot massacre, but survivors don't want it shared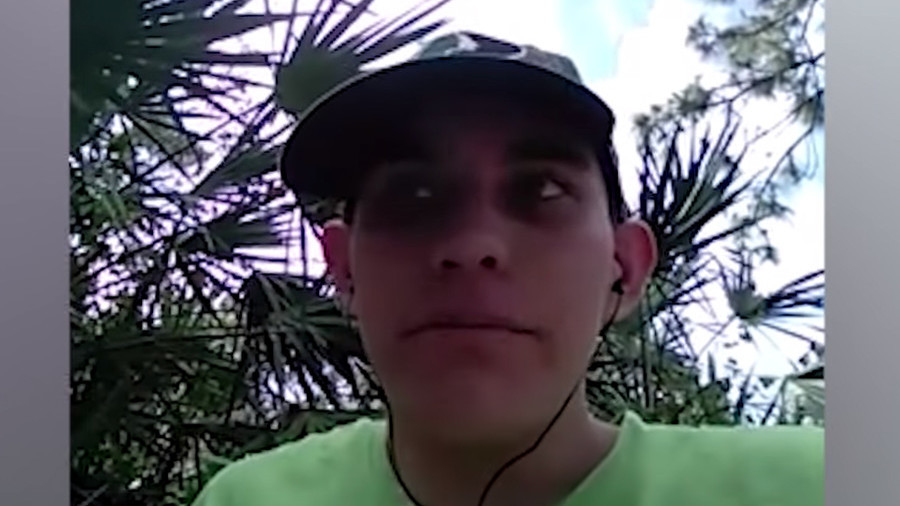 Chilling new videos show the Parkland High School shooter, Nikolas Cruz, plotting his deadly attack. Survivors of the massacre are furious, and are demanding nobody watch or share the videos.
"My name is Nik and I'm going to be the next school shooter of 2018," Cruz announced in one video. "It's going to be a big event, and when you see me on the news, you will all know who I am. You're all going to die." Cruz then starts laughing and making gunshot noises.
Survivors of the massacre, in which 17 students and staff were killed and another 17 injured, are furious. The videos, they say, are 'triggering' and give Cruz the attention he craved.
"I've been off Twitter for a couple days," said Emma González. "First thing I see when I log back in is the person who killed my friends. Please do us a favor and listen to us when we say we don't want his f***ing face plastered everywhere we look, thank you, have a good night because none of us will be."
After the shooting, Gonzalez and some of her fellow students formed the advocacy group Never Again MSD, and began campaigning for tougher gun control legislation. Together with another student-turned-gun-control-evangelist, David Hogg, Gonzalez has been a vocal opponent of gun rights.
Other students joined Gonzalez in condemning prosecutors for releasing the footage.
Fred Guttenberg, who lost his daughter in the shooting, told the South Florida Sun Sentinel that he is refusing to watch the videos. "I already know what he did," said Guttenberg. "He's evil. Repulsive. He deserves to be dead."
Prosecutors released the videos to prove that Cruz's rampage was premeditated and not as a spur-of-the-moment decision. Cruz is currently facing 17 counts of first-degree murder and 17 counts of attempted murder. He could potentially be sentenced to death.
"Here's the plan," Cruz said in one clip. "I'm going to take Uber in the afternoon before 2:40pm. From there, I'll go onto the school campus, walk up the stairs, load my bags, and get my AR and shoot people at the main courtyard and people will die."
The footage also offers insight into Cruz's tormented mind. He was known as a loner and, in the words of González, was bullied at school.
"Those talking about how we should have not ostracized him," she screamed at a rally in Fort Lauderdale after the shooting, "you didn't know this kid!"
"My life is nothing and meaningless...I hate everyone and everything," Cruz said in one clip. "With the power of my AR, you will all know who I am."
Cruz was also apparently motivated by unrequited love. In one video he personally addressed a girl, 'Angie', and vowed to always love her. "My love for you, Angie, will never go away. I hope to see you in the afterlife," he said.
Rejection and difficulties with women also led 22-year-old Elliot Rodger to open fire on a sorority house in Isla Vista, California, in 2014. In a video uploaded to YouTube shortly before the attack, Rodger explained that he wanted to punish women for rejecting him.
"Girls, all I have ever wanted was to love you and to be loved by you. I wanted a girlfriend, I've wanted sex, love, adoration, but you think I am unworthy of it. That's a crime that can never be forgiven. If I can't have you, girls, I will destroy you," Rodger said. After killing seven people, Rodger shot himself dead.
Two of Cruz's videos appear to have been recorded just hours before his killing spree began in the afternoon on February 14. Armed with a semi-automatic AR-15 style rifle, he stalked the corridors and classrooms of Marjory Stoneman Douglas High School, pumping off round after round as students fled. After the shooting, he slipped away and was arrested later in a nearby residential area.
The shooting was one of the deadliest school shootings in American history, and ignited a still-ongoing national debate on gun control.