Fears of deadly gas explosion as lava inches toward Hawaii geothermal plant (VIDEOS)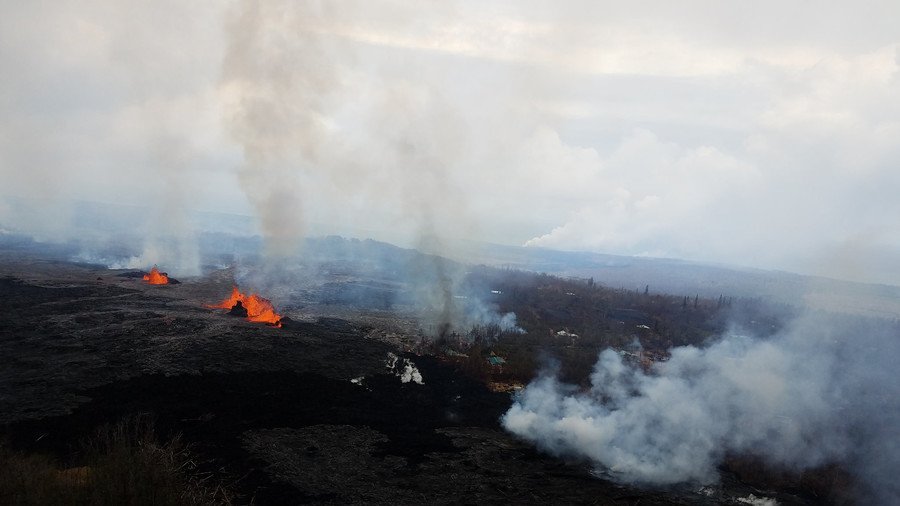 Lava from Hawaii's erupting Kilauea volcano is edging closer to a geothermal plant, escalating fears of a potentially lethal and toxic hydrogen sulfide explosion.
Molten lava crossed into the property of Puna Geothermal Venture (PGV) Saturday, according to the US Geological Survey, heightening concerns that the lava flow could make contact with the power station's 11 wells.
The potential impact of lava engulfing the facility could be catastrophic. No geothermal plant in the world has ever been exposed to such extreme temperatures.
Footage of the lower East Rift Zone of Kilauea shows the intensity of activity in the region. Fissure 8, one of the westernmost active fissures in the zone, reactivated after destroying dozens of homes over the past few days.
PGV was shut down by authorities at the beginning of May as Kilauea began erupting. Some 60,000 gallons of flammable liquid were removed, and wells were deactivated.
The Hawaii County Civil Defense Agency confirmed in its latest update that the lava flow in Leilani Estates crossed into PGV property overnight, but it emphasised that no hydrogen sulfide has been detected.
Ten of the 11 wells have been 'quenched' with cold water and plugged, while the 11th one was plugged with bentonite clay after quenching efforts failed. Local residents still fear an explosive emission of volatile, poisonous and highly flammable hydrogen sulfide and other gases may occur if the wells rupture.
The Israeli-owned plant typically provides around 25 percent of the electricity on the Big Island. Over the decades, it has been subjected to several health hazard complaints and legal challenges objecting to its close proximity to one of the world's most active volcanoes.
Like this story? Share it with a friend!
You can share this story on social media: