Emergency brakes disabled on unmanned Uber that killed Arizona woman – report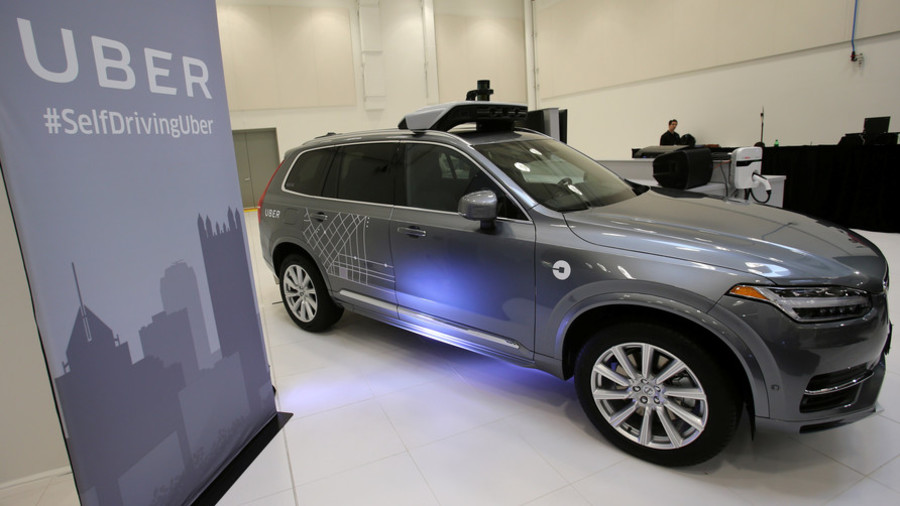 The death of a woman who was run over by a self-driving Uber in Arizona was most likely caused by a disabled braking system which had to be activated to avoid potentially hazardous situations, investigators said on Thursday.
In a preliminary report, the National Transportation Safety Board stated that the autonomous Uber vehicle had spotted the woman as she was crossing a darkened street in a Phoenix suburb seconds before the impact. However, the report says, the car's perception software "classified the pedestrian as an unknown object, as a vehicle, and then as a bicycle with varying expectations of future travel path."
According to the investigators, the unmanned vehicle spotted the danger and determined the need to stop 1.3 seconds before the fatal crash.
The company itself made no direct comment regarding the ongoing investigation. However, it noted that the automatic brakes in the Volvo XC90 were disabled, due to the fact that the car was operated by a computer system to reduce "potential for erratic vehicle behavior." Uber had also stated that "as their investigation continues," it had initiated its own "safety review of self-driving vehicles program."
While weathering the scandal after the fatal crash in Arizona, the company put the unmanned vehicle testing on hold. However, the temporary suspension is due to last only until this summer when Uber plans to resume the testing on the roads of Pittsburgh and two cities in California. The company said it had no plans to ever come back to Arizona.
As soon as the news broke out, Pittsburgh's Mayor William Peduto issued a fierce public rebuke of the company, saying that he was "forced to learn" about Uber's plans "through social media reports."
READ MORE: Police release video of fatal Uber driverless cab collision (GRAPHIC)
"This is not the way to rebuild a constructive working relationship with local government, especially when facing a public safety matter," the mayor reflected on the company's battered reputation.
Peduto said that "a full federal investigation had to be completed, with strong rules for keeping streets safe," before he would agree to the testing on the streets of his city.
The fatal crash took place March 19, when Elaine Herzberg, 49, was crossing the street in Tempe, Arizona. The unmanned vehicle that was driving at 39mph (63kph) ran over her, causing serious injuries. She died later in hospital.
According to the police, the safety operator who was supposed to oversee the self-driving system and monitor the road, was looking down instead, probably at their phone. Investigators revealed that although the operator could have intervened, the Uber self-driving system was designed in a way that fails to notify the operator.
Think your friends would be interested? Share this story!
You can share this story on social media: