Who's Melanie? Twitter mocks Trump for misspelling wife's name in 'welcome home' tweet
Published time: 19 May, 2018 22:55
Edited time: 23 May, 2018 10:22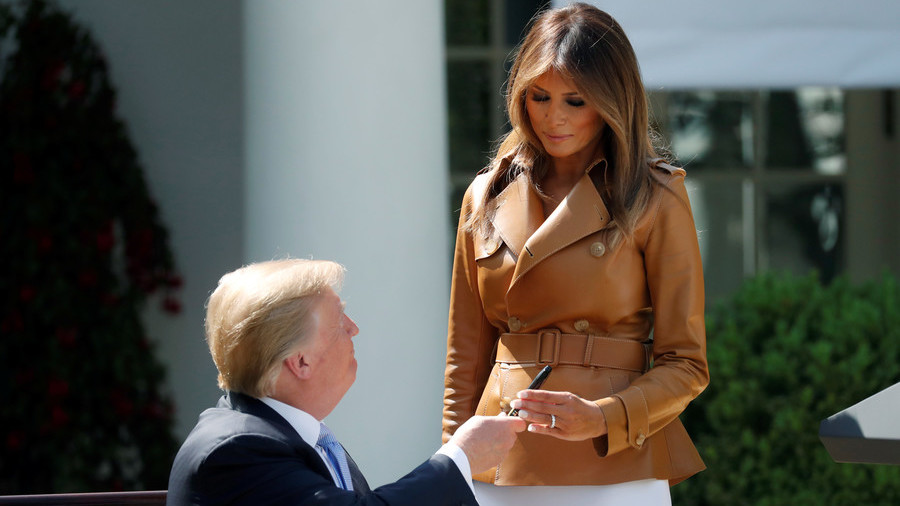 US President Donald Trump has triggered an avalanche of ridicule on social media after he welcomed his wife Melania home from hospital, but misspelled the first lady's name on Twitter and sent the internet into overload.
"Great to have our incredible First Lady back home in the White House. Melanie is feeling and doing really well. Thank you for all of your prayers and best wishes!" Trump tweeted on Saturday, to the great pleasure of his critics.
READ MORE: 'I can't understand her English': Melania trolled for #BeBest speech
Although the US leader rushed to correct his error and deleted the tweet, the original mishap immediately went viral accompanied by the #Melanie hashtag.
The Melanie mishap isn't the first Twitter misspelling to make waves online. Trump's biggest critics had a field day earlier this month when he tweeted that money from his campaign played "no roll" in a payout to porn star Stormy Daniels.
And then there was the infamous "covfefe" tweet in 2017, which many have assumed was intended to say "coverage." Although that tweet was eventually deleted, Trump acknowledged it in another one.
Just one day after his inauguration, Trump sent out a tweet that he likely thought couldn't possibly go viral, as it was simply a kind message to the American people. Too bad the word "honored" was misspelled as "honered."
In December 2016, before he was officially president, Trump was mocked for writing"unpresidented" instead of "unprecedented" in a tweet.
But the gaffes don't end with Trump himself. His wider administration has also managed to make its fair share of mistakes. One of those happened at the very beginning of his presidency, with an official inauguration poster carrying a glaring mistake. "No challenge is to great," it read.
And in May 2017, a White House press statement spoke of the "possibility of lasting peach" in the Middle East.
One of the administration's mistakes was publicly called out by former Republican presidential candidate Marco Rubio.
The mistake was likely enjoyed by Rubio, who Trump repeatedly referred to as "Little Marco" during the campaign and who in turn called out Trump for his "small hands."