'Pompeo's Mount Olympus attitude shared by US political class: We're right, everybody else is wrong'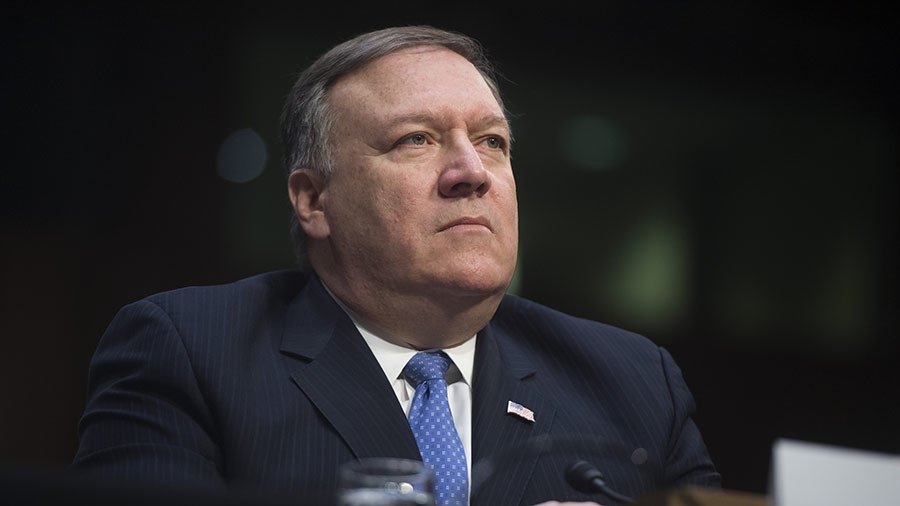 There is an attitude among the American political class that they are right and everybody else is wrong, and everybody else should take the cue from them, former US diplomat Jim Jatras told RT.
America's new top diplomat, Mike Pompeo, is promising to bring a more direct approach to foreign policy. During a closed meeting with staff on Wednesday, he spoke about bringing "swagger" back to the State Department.
"Swagger is not arrogance; it is not boastfulness, it is not ego. No, swagger is confidence; in one's self, in one's ideas," Pompeo was quoted as saying.
"In our case, it is America's essential rightness. And it is aggressiveness born of the righteous knowledge that our cause is just, special, and built upon America's core principles."
RT: Mike Pompeo has been secretary of state for less than a month, replacing Rex Tillerson. Judging by what we said, what can we expect from him?
Jim Jatras: I don't think at this point we are really sure. Look, as the former foreign service officer, I can tell you, this is the bureaucracy in Washington most impervious to outside control. That is why we have secretaries of state like Henry Kissinger who just ignore what they call "the building" and people like Colin Powell who really got absorbed by it and really were not much more than the figure heads. I think what Mr. Pompeo is trying to do here is rouse the troops, fill them with the sense of esprit de corps, say "I am your guy." But he still intends to point them at the direction that he wants to go.
RT: Pompeo talked about America's "essential rightness" in global affairs. What does he mean by that?
JJ: I don't think that is unique of Mr. Pompeo. You have an attitude throughout the political class here in Washington that is almost like a recrudescence of the view of the Soviet Union, "we are the avant-garde of all progressive humanity; peace, progress and socialism". Or, in our case, is peace, progress and human rights. We are right and everybody else takes their cue from us. I think that kind of arrogance unfortunately is pretty standard.
RT: When a diplomat talks about "aggressiveness born of righteous knowledge", does that potentially send a worrying signal to the rest of the world?
JJ: Of course, it does. This goes beyond simple patriotism, love of country and even a sense that our values are something that are dear to us. It seems to set up a kind of Mount Olympus attitude that we seat up on high and judge everybody else. And unfortunately, this has been all too familiar. Not certainly just under this administration, but I would say at least since 1991 when the Cold War ended through the Bill Clinton, George Bush and Barack Obama administrations.
RT: Do you think most Americans share this viewpoint?
JJ: I don't know if most Americans share this. I think most Americans have the kind of patriotism you would find in most other countries, which I think is essentially a laudable sentiment. I think this attitude among our political class that they are right and everybody else is wrong, including by the way their disdain for a lot of ordinary American citizens, I think it is something that is very dangerous and it really a kind of ideological thinking.
Like this story? Share it with a friend!
You can share this story on social media: