Pompeo reminds State Dept staff of America's 'essential rightness' in world affairs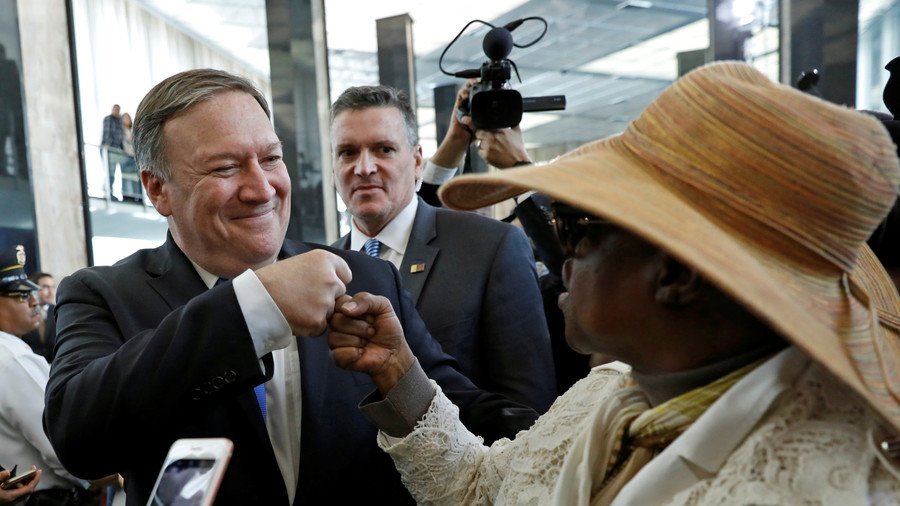 US Secretary of State Mike Pompeo has delivered a pep-talk to his State Department staff, urging them to regain their "swagger" and to believe in the "essential rightness" of the US in global affairs.
Pompeo said that American diplomats should act with confidence in carrying out the Trump administration's foreign policy, safe in the knowledge that the US is always right. The event was closed to the press, but the department released excerpts of Pompeo's remarks.
"Swagger is not arrogance; it is not boastfulness, it is not ego," Pompeo said. "No, swagger is confidence; in one's self, in one's ideas. In our case, it is America's essential rightness."
Hammering home the point, Pompeo said that America's "aggressiveness" was simply "born of the righteous knowledge" that its cause was always just. As such, State Department staff should carry their "diplomatic swagger" to "the ends of the Earth," he said. In a somewhat contradictory fashion, Pompeo then added that all this should be done "humbly" rather than with boastfulness or ego – lest anyone think there was a hint of arrogance or sense of superiority attached to his remarks.
Pompeo's comments echo statements he made during his Senate confirmation hearing last month, when he called the US a "unique, exceptional country," adding that Russia was "unique, but not exceptional."
But Pompeo is far from the first American official to express a belief in the essential rightness or "exceptionalism" of the US. In a comment that she was widely mocked for, failed presidential candidate Hillary Clinton said during her 2016 campaign that "America is great because America is good."
Clinton had made similar comments in the past, calling America the "last, best hope of Earth" and a "great, unselfish, compassionate country" with an "unparalleled" ability to be a force for peace in the world.
Former Speaker of the House Newt Gingrich has even written books on the topic of US exceptionalism – for both adult and child readers.
Pompeo, the former head of the CIA, replaced the fired Rex Tillerson last month. He has already reversed some of his predecessor's unpopular directives, including lifting a 16-month hiring freeze and restoring a program which allows diplomatic spouses to work in foreign embassies.
His pep-talk was designed to lift the spirits of diplomatic staff who were unsupportive of some of Tillerson's policies and worried about Trump's decisions to withdraw from key diplomatic agreements around the world, including the Iran deal and the Paris climate accord.
You can share this story on social media: