All aboard the deportation bus! Georgia governor candidate launches campaign tour
Published time: 15 May, 2018 18:29
Edited time: 16 May, 2018 09:59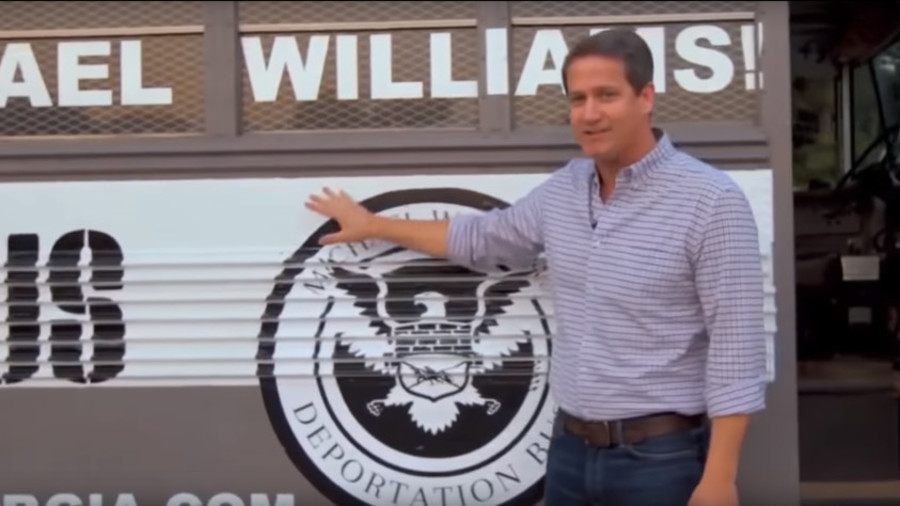 A Republican candidate in Georgia unveiled his "Deportation Bus Tour," a campaign gimmick that will see him tour the US state's sanctuary cities drumming up support for his tough immigration policies.
In a video released Tuesday, State Senator Michael Williams steps off a black prison transport bus to a pumping rock 'n' roll soundtrack to announce his bus tour, which hits the road on Wednesday.
"It's not gonna be one of those pansy political bus tours," he says. Instead, his policies will "fill this bus with illegals to send them back to where they came from."
"We're not just gonna track them and watch them roam around our state. We're gonna put them on this bus and send 'em home!"
The back of the bus is emblazoned with a warning that reads "DANGER! Murderers, rapists, kidnappers, child molestors, and other criminals on board," as well as "Follow me to Mexico."
In case it needs spelling out, Williams is running for governor on a hardline anti-immigration message. While by law his bus cannot actually pick up immigrants and drop them off in Mexico, the 287(g) deportation program he touts in his campaign video would allow for the delegation of immigration law enforcement from federal agencies to local law enforcement like police or sheriffs departments.
Critics of the program say it is costly for the localities, targets relatively minor criminals, and can damage the relationship between police and communities. Proponents say that local cooperation with federal immigration officials promotes public safety, thwarts national security threats, and is essential to upholding the rule of law in the US.
The Trump administration's ending of the Obama-era 'catch and release' programs, and his Justice Department's zero-tolerance approach to illegal immigration has led cities across the US to declare themselves 'sanctuary cities.' This means that local authorities there refuse to cooperate with federal immigration officials in detaining and deporting illegals.
In March, the Trump administration filed a lawsuit against the state of California - where sanctuary policies are enshrined in law - for obstructing "federal immigration enforcement efforts."
In Georgia, Williams is also campaigning on a pro-Second Amendment, pro-medical marijuana, and anti-abortion platform. He is in favor of raising law enforcement salaries and conserving the state's Confederate monuments.
A former co-chair of Trump's campaign in Georgia, Williams' campaign website describes him as a "fearless conservative," and a press release accompanying Tuesday's campaign video calls him "the most outspoken anti-illegal candidate in Georgia's history." There's little disputing that, now that we've seen the Deportation Bus.
Williams is one of seven Republicans competing for Governor Nathan Deal's (R) seat in the May 22 primary. After serving two terms already, Deal is mandated to step down.
A recent University of Georgia poll puts Williams in fifth place, with only 3.2 percent of the vote. At the moment, current Lieutenant Gov. Casey Cagle (R) is leading in both polls and fundraising, with almost $7 million raised and 41 percent of the vote.
With the Deportation Bus Tour due to stop in the sanctuary cities of Clarkston, Decatur and Athens over the coming days, it has already drawn scorn and bewilderment on Twitter.
The Deportation Bus Tour is not Williams' first time in the spotlight. Last year he posed for a photo with members of the Georgia Security Force 3% militia, an anti-government group that turned up to the "March Against Sharia" protest in Atlanta decked out in combat fatigues and wielding rifles and shotguns.
A spokesman for Williams said that he thought the militia were gun-rights advocates, and called the controversy over the photo "the stupidest thing in the world."