'Israel lobby calling the shots in Trump's rollback policy on Iran' – Max Blumenthal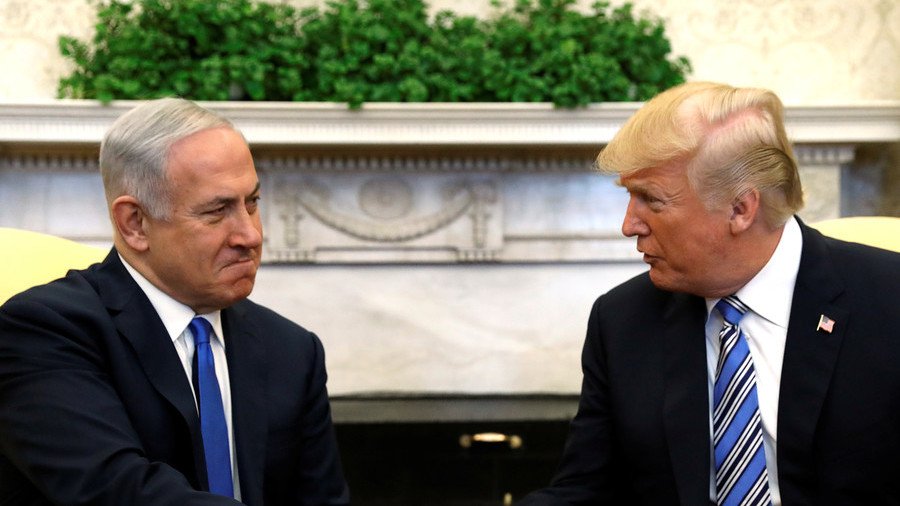 President Donald Trump's withdrawal from the Iran nuclear deal is a result of a lobbying effort by American Jewish billionaires and recycled, cooked-up intelligence touted by the Israeli PM, journalist Max Blumenthal told RT.
Trump's decision to pull the US out of the deal, which capped Iran's uranium enrichment in return for economic sanctions relief, has drawn widespread criticism from Washington's European allies and Moscow, but it was lauded in Israel, which has long pushed for dismantling of the 2015 accord.
If this doesn't speak for itself, Blumenthal told RT that the roots of Trump's decision to scrap the deal can be easily traced back to Israel.
"Israeli influence is absolutely key here. At least, Trump sided Netanyahu's kind of used car salesman style of presentation in order to justify withdrawing from the Iran deal and his new policy of rollback," the journalist said.
Taking aim at the bizarre PowerPoint presentation delivered by Israeli Prime Minister Benjamin Netanyahu late last month, Blumenthal pointed out the Israeli leader essentially "introduced nothing new in his presentation," adding that "much of the intelligence" appears to be "cooked" and stem from the early 2000s.
In 2004, the George W. Bush administration claimed that it had obtained 1,000 pages of technical documentation shedding the light on Iran's intentions to produce a nuclear weapon. According to the US officials who spoke to the media at the time, the documents came from a "stolen Iranian laptop," and not from an anti-government group. However, it was later revealed by German intelligence officials that the source of the documents was Iranian resistance group Mujahideen-e Khalq (MEK), which is recognized as terrorist by the US State Department.
"It's another intelligence scam driving us to war," Blumenthal said, calling the intelligence cited by Netanyahu "arguably fabricated."
Apart from Netanyahu, who has long been advocating the collapse of the internationally recognized agreement, Israeli lobbies within the US greatly contributed to Trump's decision to take a more hawkish stance on Iran in line with Israel's own, Blumenthal said.
"This triad of likudic billionaires – [ Home Deport co-founder] Bernard Marcus, [casino magnate] Sheldon Adelson and [hedge fund billionaire] Paul Signer – contributed over $40 million to pro-Trump Super PACs, and also contributed enormous amount of money to Trump's UN ambassador Nikki Haley and Tom Cotton, the senator that shaped Trump's Iran policy," the journalist pointed out.
You can share this story on social media: