Key Iran-Contra player Oliver North to be new NRA president
Published time: 8 May, 2018 01:55
Edited time: 8 May, 2018 07:58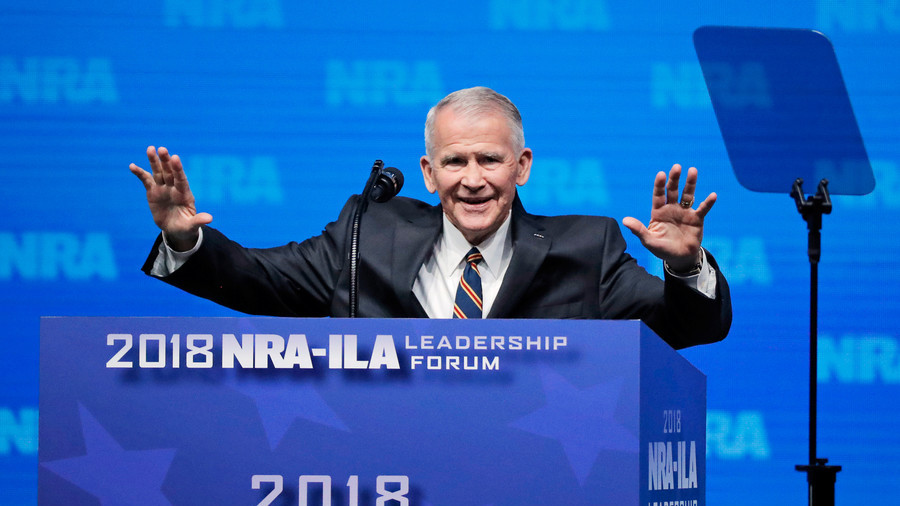 The National Rifle Association has announced its new president will be Oliver North. The retired US Marine colonel gained notoriety as the man behind the 1980s 'Iran-Contra' weapons export scandal.
"I am honored to have been selected by the NRA Board to soon serve as this great organization's president," North said in a statement, asking for a few weeks to put his other affairs in order. He resigned as host of a TV show on Fox News, effective immediately.
NRA president Pete Brownell has decided not to seek re-election, saying he wanted to devote more time and energy to his family business, the NRA said on Monday.
In the same letter announcing he would step down, Brownell endorsed North as his replacement, saying that "in these extraordinary times, a leader with his history as a communicator and resolute defender of the Second Amendment is precisely what the NRA needs."
North is "hands down, the absolute best choice to lead our NRA Board" said NRA executive vice president and CEO Wayne LaPierre, calling him a "a true hero and warrior for freedom."
NRA spokeswoman Dana Loesch tweeted that North is "the last person that anti-gun advocates would want" as the group's new president.
The NRA's detractors appear to have had a field day with the announcement, however, pointing out North's role in the 1980s Iran-Contra scandal. The scheme involved US weapons sales to Iran, with the profits going towards arming the "Contras," insurgents fighting the Sandinista government in Nicaragua.
North became a notorious household name in the US in the late 1980s, when he took personal responsibility for the scheme. The arrangement sought to bypass US sanctions against Iran and a congressional amendment against funding the Contras, by selling weapons to Iran via Israel. Several US hostages held in Lebanon by the Iranian-backed group Hezbollah were also set free as part of the scheme.
Charged with 16 felony counts in 1988, North was convicted of accepting an illegal gratuity, of aiding and abetting the obstruction of a congressional inquiry, and of ordering the destruction of documents. He was given a three-year suspended prison sentence, two years of probation, $150,000 in fines and 1,200 hours of community service.
His conviction was vacated in 1990, however, after the appeals court found that witnesses in his trial may have been affected by his testimony to Congress, which was given under immunity. The American Civil Liberties Union (ACLU) sided with North in the appeal.
The Reagan administration argued that its support for the Contras in Nicaragua and the 1983 invasion of the Caribbean island of Grenada ‒which North helped plan as a member of the NSC‒ were efforts to stop the Soviet Union from supposedly spreading communism in the western hemisphere.
Today, it is the US gun control advocates who accuse the NRA of having ties to Russia.
If you like this story, share it with a friend!