Powerful 6.9 quake, numerous aftershocks hit Hawaii's Big Island near erupting volcano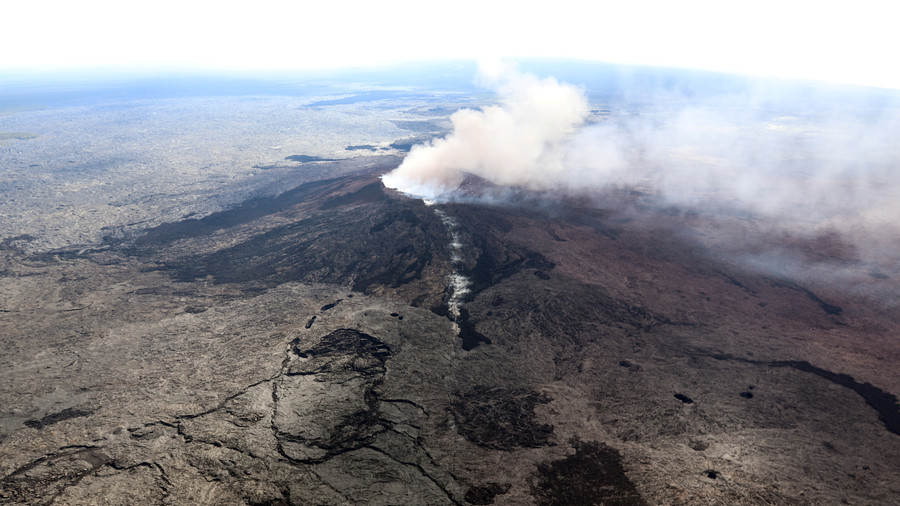 A powerful earthquake measuring magnitude 6.9 has struck just off the Big Island of Hawaii as numerous smaller jolts, including a 5.4 tremor, shook the island in the past hours, amid ongoing volcanic eruption.
The US Geological Survey has upgraded the severity of the earthquake off the Big Island in Hawaii to a 6.9 on the Richter scale, roughly an hour after it was registered. According to the new USGS data, the extremely powerful tremor was registered 16km southwest of Leilani Estates, Hawaii, at a depth of 5.0 km.
READ MORE: 'Fountains of lava': Dramatic video shows scale of Mount Kilauea eruption in Hawaii (PHOTO,VIDEO)
The quake struck on the south flank of Kilauea Volcano at 12:33 local time and was followed by several aftershocks, according to the National Weather Service, as eruptions at the volcano continue. No Tsunami warning has been issued.
The tremor was the most powerful of a series of earthquakes that have been rocking the islands over the past days. No Tsunami warnings have been issued after the quake.
The massive earthquake caused small sea level changes at some locations of the Big Island, which are now "diminishing," authorities said. A twenty centimeter (cm) amplitude was recorded in Hilo, with 40 cm in Kapoho and 15 cm in Honuapo, the County of Hawaii said in a statement.
Following the quake, the Hawaiian Volcano Observatory confirmed further volcanic eruption is ongoing in Leilani Subdivision, in the Puna District.
"Active volcanic vents are located on Makamae, Kaupili and Mohala Streets. A new vent has opened near the intersection of Leilani Avenue and Kahukai Road," the Civil Defense of Hawaii County reported.
"All residents of Leilani Estates and Lanipuna Gardens Subdivision are ordered to evacuate immediately," the alert issued by the authorities announced, adding that Police, Fire and National Guard are assisting with the evacuation, which originally started on Thursday, when a lava outbreak began threatening residential areas.
Authorities warn that people must leave the area immediately due to high levels of Sulfur Dioxide gas, noting that those with "compromised respiratory systems" are especially vulnerable. "The high levels detected are an immediate threat to life for all who become exposed. First responders may not be able to come to the aid of residents who refuse to evacuate," the alert stressed.
Residents of Leilani Estates and Lanipuna Gardens Subdivisions are strictly ordered to stay away from the area of the ongoing volcanic eruption. "No one is allowed into the area. Do not attempt to return to your home at this time," authorities firmly stressed.
Think your friends would be interested? Share this story!
You can share this story on social media: