Lava outbreak triggers evacuations in Hawaii amid fears of imminent eruption (VIDEOS)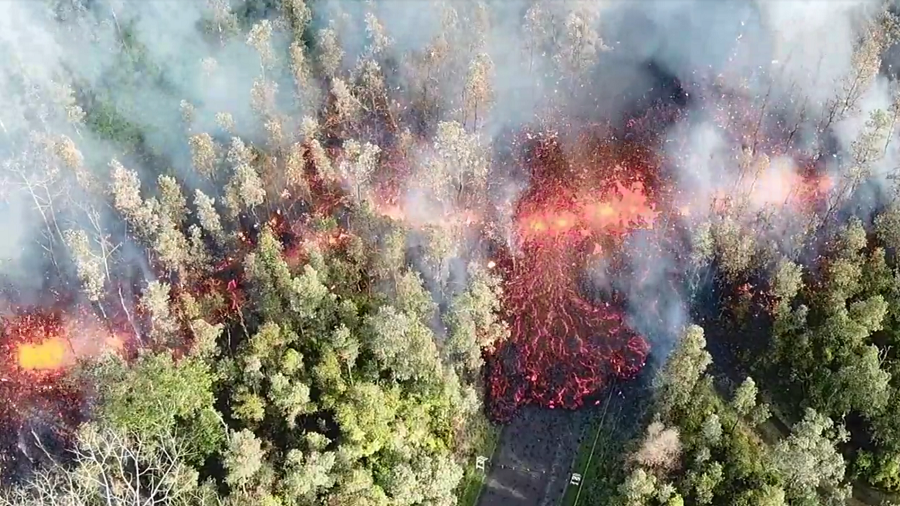 People in the vicinity of the Big Island's Kilauea crater are being evacuated as lava threatens residential areas, after the most active volcano in Hawaii was disturbed by hundreds of small quakes and started shooting out ash.
The lava outbreak has reached the Leilani Estates on the Hawaii island, forcing the County Civil Defense to issue evacuation orders to some 10,000 residents of Puna community into emergency shelter set up by the American Red Cross.
Hawaii County has issued an emergency proclamation, giving extended management powers to the authorities to oversee disaster relief and ensure public safety.
Residents from Luana Street to the end of Leilani Estates are being asked to vacate their homes, Civil Defense confirmed, according to Khon Channel 2. In addition, areas bordering the East Rift Zone, from Puu Oo crater down to Kapoho, also face a high risk, and are urged to prepare an emergency plan.
Steam and lava emissions are being reported from a crack in Leilani Subdivision in the area of Mohala Street, according to the Department of Public Works. "Residents in Leilani Estates Subdivision on Luana, Makamae, Ho'okupu, Kaupili, Mohala, and lower Leilani Streets down to Highway 132 are required to evacuate the area," authorities advised.
New fissure opens in Leilani Estates on the Big Island of Hawaii.This video was taken just moments ago by my best friend who lives on the island... he said the fissure is making 'a loud wooshing sound' and is spewing lava at least 20 feet into the air.Video credit: Jeff Wise pic.twitter.com/H56kllrdof

— Jennifer Myers (@JenMyersFox4) May 4, 2018
"So there is fountains of lava, tons of lava coming out. Sounds like a jet engine," Pohoa resident Ikaika Marzo said during a Facebook live broadcast, urging everyone in the area to help their community evacuate safely.
Those leaving their homes are asked to take any available emergency provisions with them, including medicine and food. Authorities closed the roads in the affected areas to assist with the evacuation. Hawaii County Civil Defense, Police, Fire Departments are assisting the evacuations.
Earlier, at 10:31am on Thursday, a 4.6 magnitude earthquake struck the south flank of Kilauea Volcano, according to US Geological Survey. While the jolt was not strong enough to produce a tsunami, people did note a big plume of ash rising in the air after the quake.
To deal with the developing situation, the county of Hawaii's entire emergency response team was activated.
Think your friends would be interested? Share this story!
You can share this story on social media: