State Dept condemns journalist killings, except ones by Israeli soldiers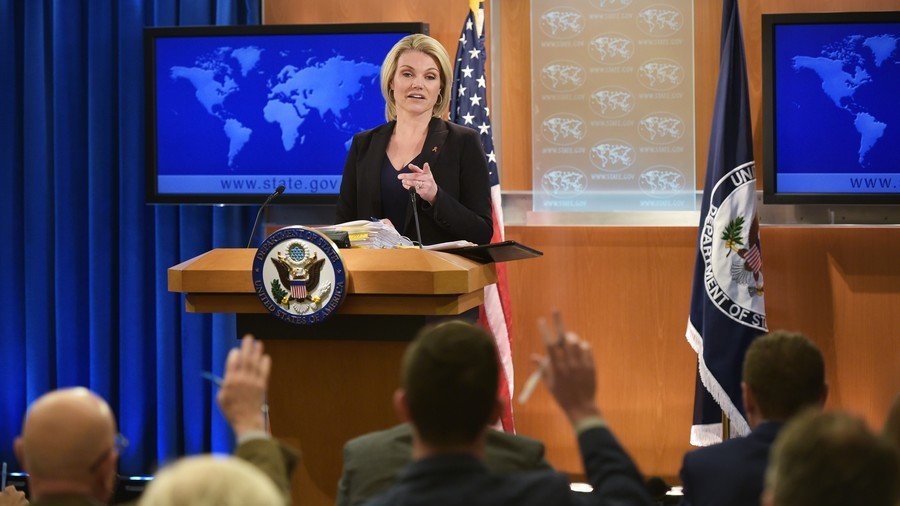 Speaking on World Press Freedom Day, US State Department spokesperson Heather Nauert preached freedom from oppression for all journalists – unless they are Palestinian and the oppressor is Israel.
Nauert started her Thursday briefing by praising the State Department press pool and urging accountability for the "apparent assassination" of a BBC journalist in Afghanistan on Monday (one of the nine that were killed in that attack). She then profusely condemned the many violations of journalists' rights across the world. Among the perpetrators, she listed Myanmar, Egypt, Turkey, Tanzania, Cambodia, the Philippines, Malta, Mexico and, of course, China and Russia. All of them were chastised as oppressive governments that repress, detain or outright murder unwanted journalists.
Once Nauert was done with her opening speech (which included congratulating one of the journalists present on her promotion and praising another's dress choice), she moved on to other topics – but was pulled back on track by the first reporter to ask a question:
"Would you also condemn the recent deaths of journalists, Palestinian journalists in the Gaza Strip?"
Nauert answered that too many journalists die across the world, and the State Department can't mention them all.
She said that the US, of course, is "always saddened by the loss of life," but "Israel has a right to defend itself."
Israel has been defending itself from Palestinian protesters across the border in Gaza for a month now. Within that time, the defensive action, which includes live gunfire, has claimed 45 lives – two of them journalists' – and caused 6,000 injuries, according to the Gaza Health Ministry. The Israel Defense Force (IDF) says the Gazans were rioting, throwing improvised explosives and trying to break through the border fence.
READ MORE: 430 injured as IDF targets Great March of Return protesters – Palestinian Health Ministry
When pressured further, Nauert claimed no detailed knowledge of any journalists killed or injured by the IDF, and ultimately told the pool reporters to go ask the Israeli government.
If you like this story, share it with a friend!
You can share this story on social media: