'Russians go after people with shady morals', or how to capitalize on Russiagate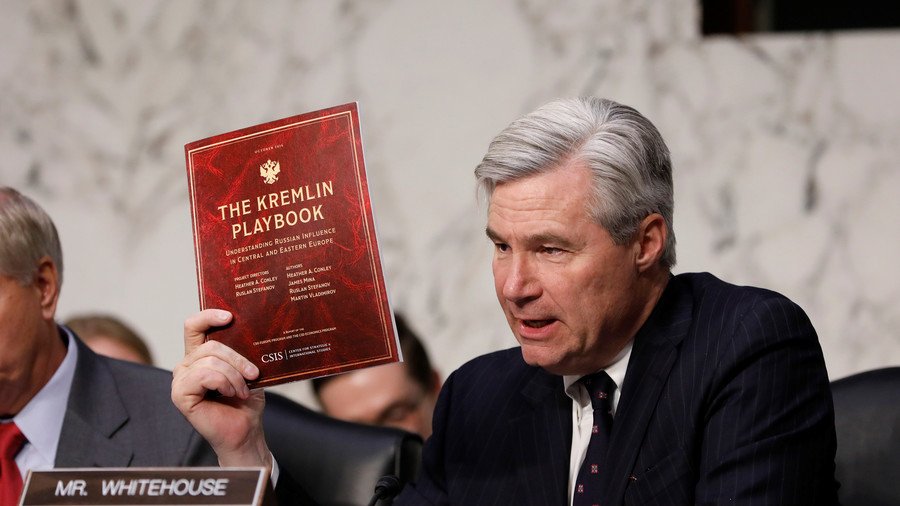 The list of what you can't say about Russians is much shorter than the list of what you can say, one US senator proves in a new documentary on the hottest topic of year.
Interviewed for a new documentary claiming to expose US President Donald Trump's deep ties to Russia, Senator Sheldon Whitehouse took aim at "Russians" and their nasty tricks.

Democrat @SenWhitehouse declares in neoconspiracist Russiagate documentary: "Russians have a particular type of mark who they go after."Imagine if he had said the same about any other national or ethnic group. https://t.co/lJQKosIQKT

— Max Blumenthal (@MaxBlumenthal) May 1, 2018
"Russians have a particular type of mark who they go after," Whitehouse said, explaining that Russians (just, in general?) like to target people with "shady morals" who are "amenable to bribery" and possess political connections. "I've just described Donald Trump," Whitehouse says. "He was the perfect mark for the Russians."
It wouldn't be the first time a high profile US government figure made reference to the "Russians" and their shady ways. Last year, former US Director of National Intelligence James Clapper told MSNBC's Chuck Todd that Russians were almost "genetically driven" to be untrustworthy. Fortunately for Clapper, no-one in the media called him out on the xenophobic comment – so it's unlikely Whitehouse will face any backlash either.
The documentary in question is 'Active Measures,' made by Jack Bryan, the "Upper East Side-raised son of a millionaire" who was trying to kickstart his film career when the perfect conspiracy theory came along and fell into his lap.
Bryan is getting rave reviews for the documentary which spins a great tale about how Russia (not partisan politics and a culturally and politically-polarized society) is responsible for "dividing the US" in 2016. Variety says watching the documentary, which has been praised in the media and which debuted at Hot Docs film festival in Toronto this week, is like watching "a 21st century version of Watergate."
What better way to get your name into the spotlight than by piggybacking on the Russiagate train, despite the fact that no proof of collusion between Trump and Russia has yet surfaced anywhere?
'Active Measures' features interviews with some top Russiagate aficionados, including former United States Ambassador to Russia Michael McFaul, former presidential candidate Hillary Clinton and current US Senator John McCain. In fact, of the 30 interviewees in 'Active Measures,' a film purportedly about Russia, not a single one of them is Russian.
American documentary about Russia: not a single Russian person features in the list of interviewees. The sad thing is, I'm not even remotely surprised. https://t.co/CMNQWzgknK

— Bryan MacDonald (@27khv) March 23, 2018
Playing the fearless investigator, Bryan admits he is worried about his personal safety and has hired a security team for himself as the film's producers who are "watching what they drink" — you know, just in case Vladimir Putin gets really mad over a bad documentary.
Just a nice touch to single himself out from the crowds of documentary and filmmakers, authors and pundits who've made 'Scary Russians' almost a genre in itself these days.
You can share this story on social media: