'US itself doing great job in sowing discord within society' – analysts on House intel report
Published time: 28 Apr, 2018 07:24
Edited time: 29 Apr, 2018 08:12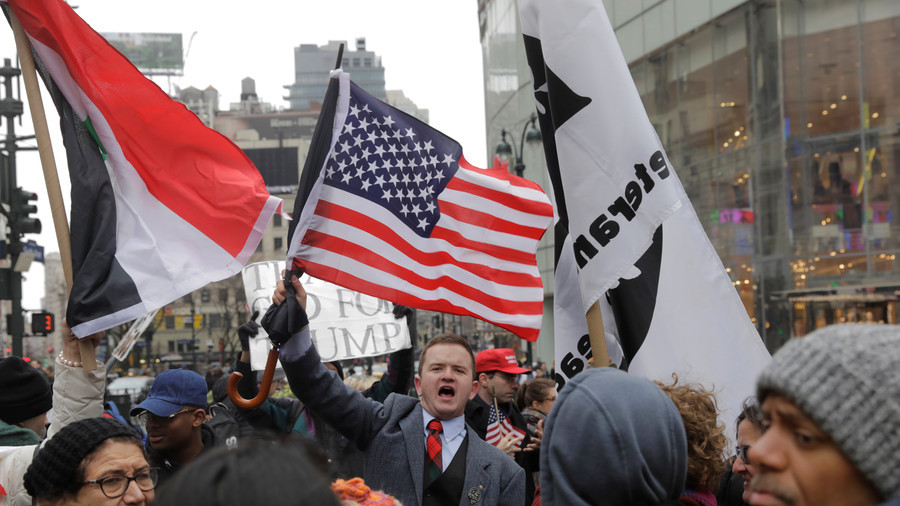 Not Russia, but the divisive political climate in the US is to blame for the increasing polarization in society, analysts told RT after a House Intelligence Committee report claimed Moscow succeeded in sowing discord in the US.
The 235-page declassified, but heavily redacted, final version of the report on alleged Russian meddling in the 2016 US presidential election was released by the Republican-controlled committee on Friday. It alleges that Russia was successful in causing confusion and sowing discord in society, undermining the electoral process through social media, hacking, and media operations.
Despite the seriousness of the allegations, the report presented little evidence to support the claims, apart from Russia-linked election posts on Twitter and Facebook that were found to account for less than one percent of the election-related content.
Daniel Faraci, director of Grassroots Political Consulting, believes that what actually set Americans against each other was the bitter political environment and ill-conceived policy choices at home.
"The discord in the United States – we do a great job at that ourselves. We have problems across the map, with the ever-expanding intervention policies on defense to a lack of focus on our economy, and education which causes a lot of headache… We don't need anybody to come and try to influence that," Faraci told RT.
Retired US Air Force officer Karen Kwiatkowski agreed, saying that the course of the election campaign clearly shows that the problems stem from within. "Everybody watched our campaign, the primaries, we had something like 17 Republican candidates, had horrific divisions in the Democratic Party during the primary that they had."
Kwiatkowski was surprised that the report "seemed as confident as it was" that the chaos in American political life was the achievement of the Russians.
"To me, that seems very difficult to prove given the political environment in the US, specifically, over the last several years," she said.
The whole Russian bogeyman narrative was triggered not by real facts, but to show that Hillary Clinton lost the election, not because of lack of support or running a bad campaign, but "because of Russia," legal and media analyst Lionel believes. Unfortunately, the recent report from the House Intelligence Committee will not bring this to an end, he said.
"This goes to show you, and I want everybody to understand, that the reason why this was done was not necessarily to investigate this 'Russian collusion.' It was to try to justify how Hillary Clinton lost the election," Lionel told RT.
The paper did not find any collusion between the Trump campaign and Russia, prompting President Donald Trump to call the lingering Russia probe "a big Hoax by the Democrats based on payments and lies." In February, Trump said that the Russia probe and ensuing media hysteria was the realization of Moscow's wildest dreams if the Kremlin actually sought to sow discord in the US.
Think your friends would be interested? Share this story!