First fire of 2018: US Air Force tests Minuteman III ICBM in California (VIDEO)
Published time: 26 Apr, 2018 07:51
Edited time: 27 Apr, 2018 08:02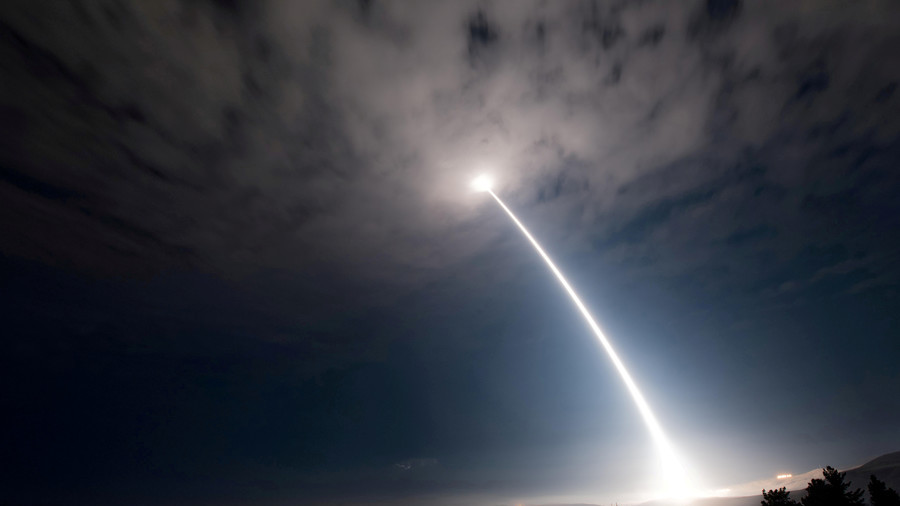 The US Air Force has launched the Minuteman III intercontinental ballistic missile (ICBM) in California. The test became the first one this year and was aimed at checking the readiness, effectiveness, and accuracy of the system.
The launch of the unarmed missile took place at Vandenberg Air Force Base at 5:26am local time on Wednesday and was successful, according to a statement from the Air Force Global Strike Command.
The video featuring the blast-off and the flight was published on the 30th Space Wing's official YouTube channel. However, usual photos of the tests and a statement on social networks were not provided.
"A reliable test launch occurs when a test missile launches, completes its flight path within a designated safety corridor, the equipment functions properly, sensor data is collected, and the test reentry vehicle impacts where targeted," the Air Force Global Strike Command statement said, according to AFP. It added that the re-entry vehicle "reached its intended target."
It was the first test of its kind to take place this year, after a launch planned for February was postponed. Minuteman missiles are regularly tested from Vandenberg, which is situated on the Pacific coast in Santa Barbara County.
READ MORE: Russia successfully test-fires new anti-ballistic missile (VIDEO)
The test comes ahead of a planned meeting between US President Trump and North Korean leader Kim Jong-un, who launched a number of missile and nuclear tests last year. Pyongyang previously boasted that its ICBMs are capable of reaching the entire US mainland, but most recently vowed to halt its nuclear tests.
Manufactured by Boeing, the LGM-30G Minuteman III is the only land-based ICBM in service in the US. The Minuteman system, which first came into service in 1962, is one part of the so-called US nuclear triad, with the other two parts being the Trident submarine-launched ballistic missile (SLBM) and nuclear weapons carried by long-range strategic bombers.
Think your friends would be interested? Share this story!