Russia successfully test-fires new anti-ballistic missile (VIDEO)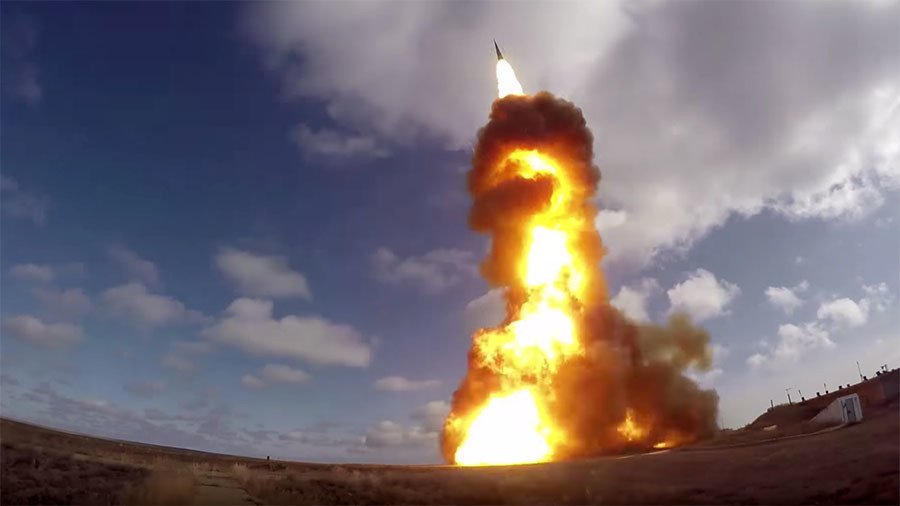 The Russian military has successfully tested an upgraded anti-ballistic missile designed to destroy incoming warheads. The projectile is a component of the anti-ballistic missile (ABM) shield protecting Moscow.
Footage from the Russian Defense Ministry released on Sunday shows the Sary Shagan test range in Kazakhstan, where Russia usually tests its anti-ballistic missiles. The missile is seen soaring into the sky toward a target, leaving a plume of smoke in its path.
"A new upgraded anti-ballistic missile has successfully accomplished its task and struck a conventional target at the designated time," Major General Andrey Prikhodko of the Russian Air Force said.
READ MORE:'US eyes encircling Russia with 400 anti-ballistic missiles' – Russian deputy defense minister
The ministry would not release any further details, including the exact type of the missile which was tested at Sary Shagan. The projectile is a component of the A-135 anti-missile shield designed to protect the Russian capital against nuclear strikes. It is comprised of dozens of interceptor missiles and sophisticated early warning radars.
In February, the Russian military successfully test-fired a new interceptor missile from the Sary Shagan test range. The interceptor was apparently the replacement for the 53T6 short-range anti-ballistic missiles, which serve as part of an ABM shield.
In March, Russian President Vladimir Putin unveiled an ambitious suite of brand-new nuclear weapons during his State of the Nation address. The sophisticated weaponry included the newest intercontinental ballistic missile (ICBM), nuclear-powered drone submarines, and even combat lasers.
During the same month, the Russian leader said in an interview with NBC's Megyn Kelly Today that a new arms race had been started by Washington when it decided to withdraw from the 1972 Anti-Ballistic Missile Treaty in 2002. "If we are to speak of an arms race, then an arms race started precisely at that point," he stated.
Indeed, the US has begun a nuclear build-up on Russian doorstep, extending its anti-missile shield to Romania and Poland, and deploying a battery of Patriot long-range anti-aircraft systems to Lithuania for the first time. According to Russia's Deputy Defense Minister Alexander Fomin, the number of US anti-ballistic missile systems deployed in the vicinity of the Russian borders could soon reach as many as 400.
The US encircling Russia triggered a response from Moscow, which deployed its Iskander systems to its Kaliningrad exclave, citing the threat posed by US missile launchers in Poland and Romania.
Think your friends would be interested? Share this story!
You can share this story on social media: