Russiagate's next target: John Bolton?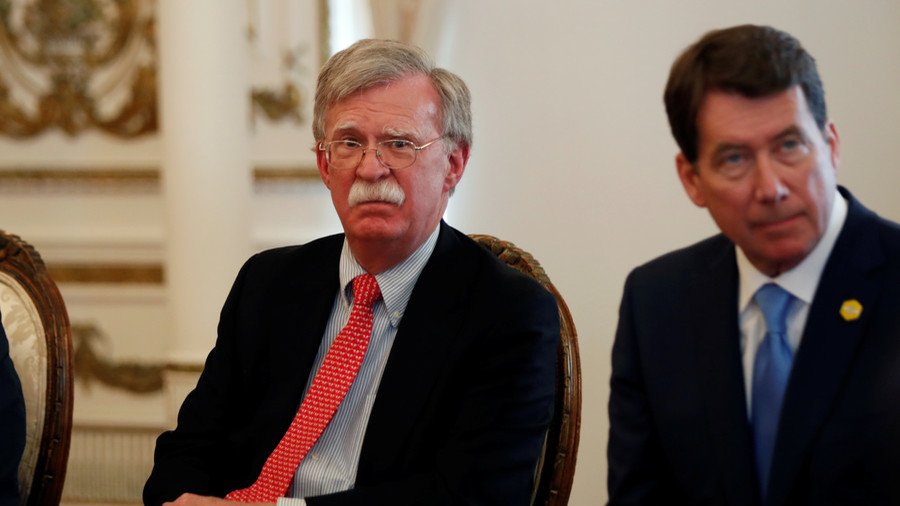 Is President Donald Trump's new national security adviser John Bolton a secret Russian stooge? NBC news thinks he might be.
As the narrative that the Trump campaign colluded with Russia stays alive, NBC news has found that if you join enough dots and squint just hard enough, Bolton "colluded" with Russian trolls to spread anti-Muslim propaganda.
In an article published Monday, NBC's Heidi Przybyla highlighted Bolton's chairmanship of the right-wing Gatestone Institute think tank between 2013 and last month. Gatestone publishes posts from right-wing authors, many of which concern the role of Islam in Europe and the west.
You're not going to believe me, but John Bolton chaired an anti-Muslim think tank—whose work was amplified by Russian trolls. https://t.co/2y3MsF5LWx

— Jim Ludes (@JMLudes) April 23, 2018
Headlines like 'Germany Confiscating Homes to Use for Migrants,' and 'Rape Capital of the West' are cited as proof of Bolton's "Islamophobia", despite the fact that he never actually wrote any of these pieces. Bolton himself mostly wrote about Iran, a country he maintains a hawkish stance on.
While a few of Gatestone's articles have been accused of cherry-picking facts to promote a right-wing narrative, its stories on migrant sex crime and violence in Europe are not fiction, and similar stories have begun to appear in mainstream media. Bloomberg reported in January that refugee crime statistics in Germany confirm the right's warnings, while Politico reported this month that despite a government PR campaign to downplay the problem, Sweden is plagued by rising levels of Islamic State recruitmen, shootings, bombings, and grenade attacks.
However, in the eyes of NBC the fact that several Gatestone authors spoke on Russian media outlets like RT and Sputnik somehow constitutes proof of Bolton's collusion with Russia.
"It suits the Kremlin propaganda outlets to portray Western democracies as a failure that have been flooded by migrants and whose societies are breaking down, because then it will make it [democracy] less attractive to Russians," Ben Nimmo, a fellow at the Atlantic Council's digital forensic research lab, told NBC.
According to this narrative, Russian trolls are responsible for Bolton's appointment too. Przybyla points out how four suspected "Russian troll" Twitter account retweeted Gatestone articles, and one "troll account" tweeted a suggestion to Trump that he appoint Bolton to his cabinet.
Hillary Clinton's campaign and the Democratic National Committee (DNC) have blamed Russia for her defeat ever since the 2016 presidential election. Last week, the DNC announced a lawsuit against the Trump campaign, the Russian government, and WikiLeaks for allegedly interfering in the election. The lawsuit is conspicuously light on evidence, and looks like"a last gasp at validating how Hillary Clinton lost a rigged election," legal and media analyst Lionel told RT.
The connection between Bolton and Russia is even more tenuous. Overseeing a think tank that publishes politically incorrect articles plus five tweets from alleged Twitter trolls (as decided by the Atlantic Council) looks less like collusion and more like a desperate attempt to keep the failing Russiagate conspiracy theory alive.
Like this story? Share it with a friend!
You can share this story on social media: