Ferocious felon: 'Hangry' bear breaks into car & locks itself inside (VIDEO)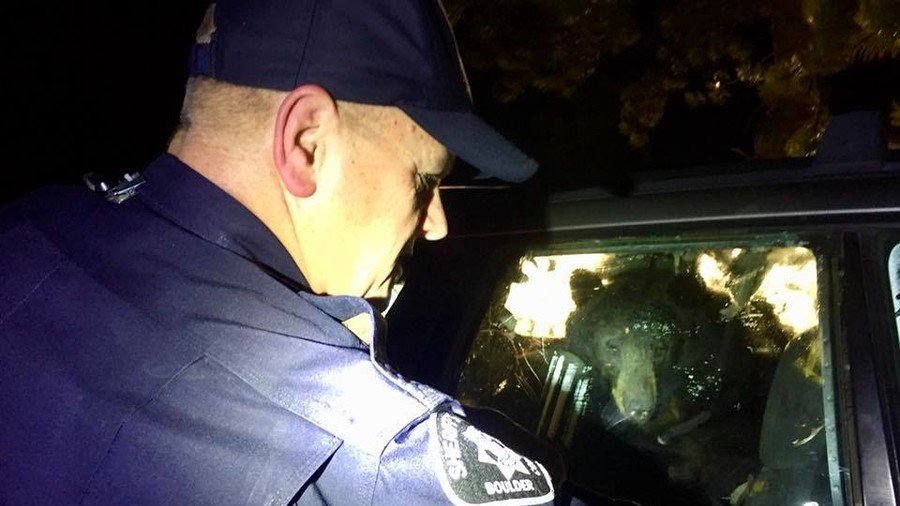 Colorado police responding to reports of a 'vehicle trespass' came upon an unlikely, and terrifying, felon – a bear that managed to break into a car and lock itself inside.
The 'hangry' intruder was discovered by deputies from the Boulder County Sheriff's Office. Video from the scene of the bizarre break-in was released by police on Thursday and shows officers bracing themselves around the vehicle with weapons raised and calling for the bear to come out.
READ MORE: Motherload! Huge collection of female octopuses guard eggs off Costa Rican coast (PHOTOS)
Clearly not looking for trouble, the bear makes a swift exit out the back of the vehicle and escapes without harm.
"A bear broke into a car and locked himself in. Car 0. Bear 1," the sheriff's office said in a Facebook post. A photo of the strange scene shows the bear staring out of the window at a police officer during its occupation of the vehicle.
It's believed the bear broke into the car searching for food before unwittingly locking itself inside. Police said the incident is a good reminder that wildlife is out and about this time of year searching for food, and people should take extra care to prevent encounters with peckish creatures.
"Trust us, you don't want to have to deal with a 'hangry' bear," they warned.
Colorado is known as 'bear country' and is home to a large population of black bears. The state's growing human population has led to more conflicts between the two, resulting in dozens of bear deaths, Colorado Parks and Wildlife told the Denver Post last year.
If you like this story, share it with a friend!
You can share this story on social media: