Motherload! Huge collection of female octopuses guard eggs off Costa Rican coast (PHOTOS)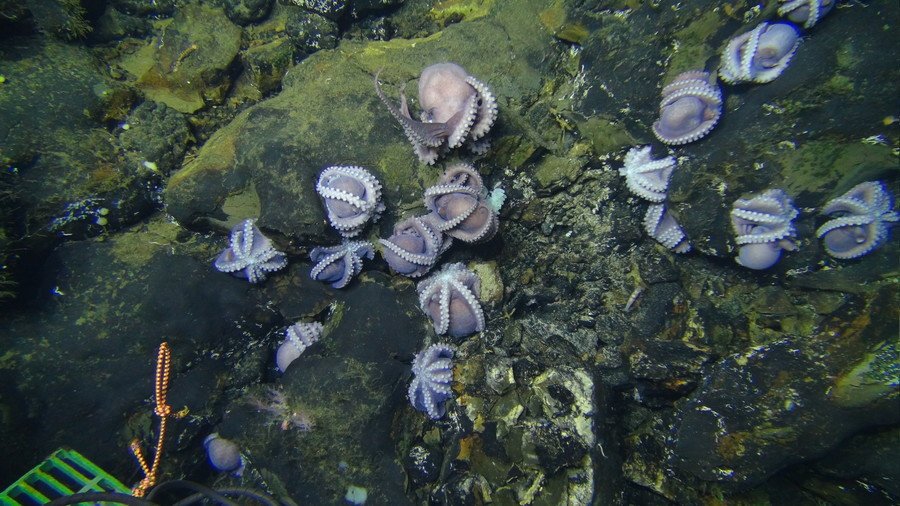 A giant cluster of female octopuses and their eggs have been found at a depth once thought impossible during a deep-sea expedition in Costa Rica.
The discovery, made about two miles (3km) beneath the ocean's surface and 100 miles off the coast of Costa Rica, has left researchers baffled. "When I first saw the photos, I thought, 'They shouldn't be there! Not that deep and not that many of them!'" said Janet Voight, a zoologist at the Field Museum in Chicago and co-author of the paper published in the journal 'Deep Sea Research Part I.'
READ MORE: Octo-fuss: Internet goes wild for color-changing hatchling footage (VIDEO)
In addition to the unusual location, scientists were confounded by the fact that this unknown species of the genus Muusoctopus were found huddled in groups of up to 100. These pink, big-eyed creatures are typically loners, according to researchers.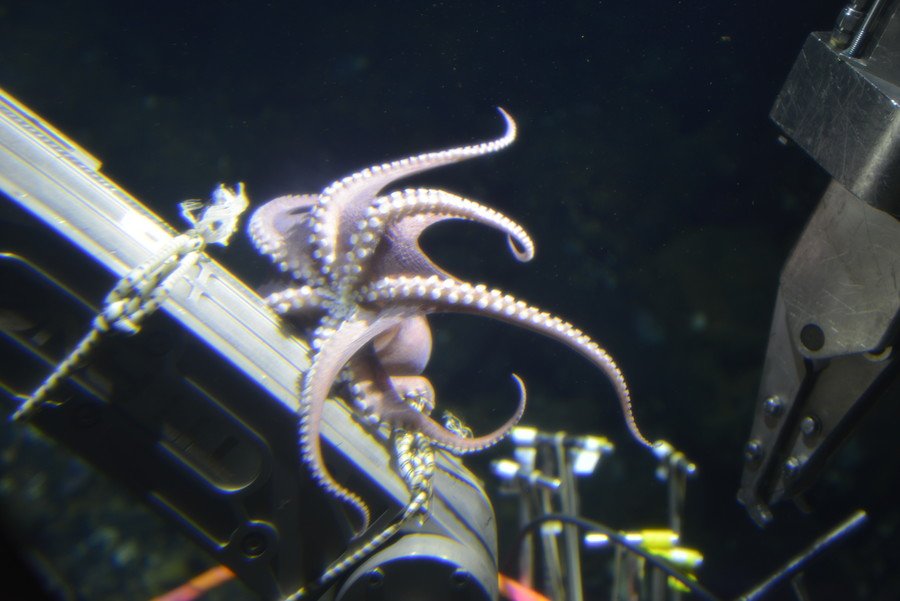 Scientists were exploring the Dorado Outcrop, a rocky patch of seafloor formed of cooled and hardened lava from an underwater volcano. Nearly all the octopuses discovered appeared to be mothers, guarding a clutch of eggs alongside warm fluids coming from cracks in the outcrop.
READ MORE: Scientists unlock secrets of 3D 'invisibility cloak' using… cuttlefish? (VIDEO)
Deep-sea octopuses usually live in cold waters so it doesn't make sense for deep-sea octopuses to brood eggs in warm water. "That's usually suicide," the team said.
Exposure to higher temperatures tends to jump-start their metabolism, fostering a need for more oxygen than warm water can provide. The octopuses observed by the team were found to be in severe stress. On top of that, of more than 180 eggs attached to the rocks, none had any sign of a developing embryo.
However, the sheer number of ill-fated octopuses occupying the warm waters means scientists believe there are more octopuses living in a better habitat nearby. Scientists observed octopus arms emerging from cracks in the rock which they say is evidence of a larger population.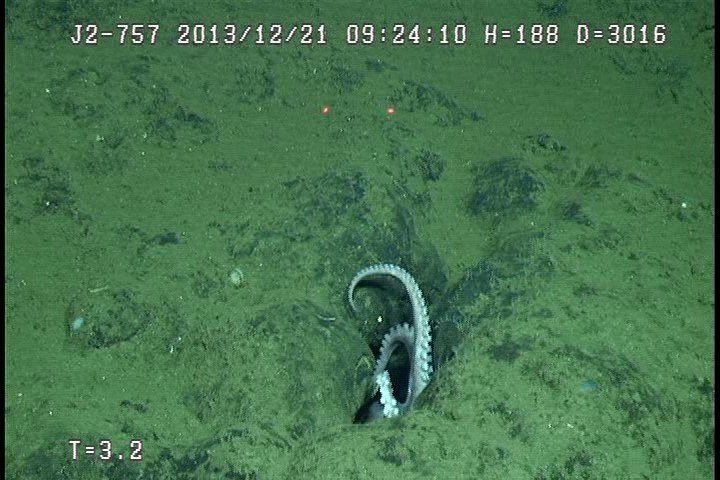 "Octopus females produce only one clutch of eggs in their lives," said Voight. "For this huge population to be sustained, there must be even more octopuses to replace the dying mothers and the eggs we can see."
One possibility is that there is a booming octopus population living inside crevices in rocks where the water is cool and rich in oxygen, forcing some of the cephalopods into the warm region outside.
The National Science Foundation's Division of Ocean Sciences, which funded the research described the findings as "serendipitous.""Unexpected discoveries like this can dramatically change our understanding of how the oceans work," said program director Barbara Ransom.
Think your friends would be interested? Share this story!
You can share this story on social media: