Russian ambassador meets new US national security adviser Bolton
Published time: 19 Apr, 2018 23:41
Edited time: 20 Apr, 2018 10:45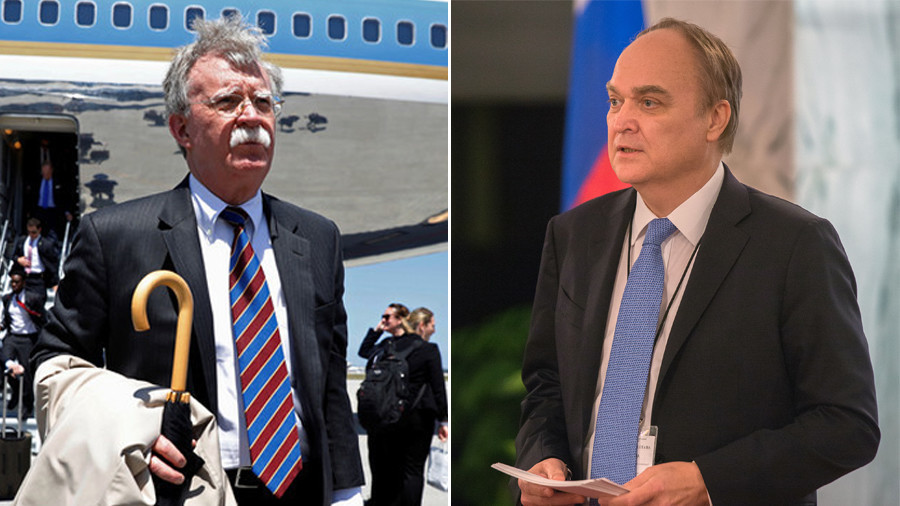 The newly-appointed White House national security adviser John Bolton has met with Russian Ambassador Anatoly Antonov to discuss the US-Russia relationship amid unprecedented tensions between Washington and Moscow.
"Ambassador Bolton reiterated that it is in the interest of both the United States and Russia to have better relations, but that this will require addressing concerns regarding Russia's interference in the 2016 election, the reckless use of chemical weapon in the United Kingdom, and the situations in Syria and Ukraine," the White House said in a statement.
While US officials and Trump had earlier personally expressed some will to cooperate and to build a "good relationship" with Russia, the White House has now taken quite a hostile approach, implying in its statement for the US media that Moscow should first confess its alleged sins in order to move on. The Russian Embassy in Washington has not immediately issued any statements following the meeting.
This was the first meeting between the recently appointed White House security adviser Bolton and Ambassador Antonov, who, after assuming his current role in September 2017, received a lukewarm welcome from US politicians.
The meeting between the envoys comes amid unprecedented tensions. The rift between the nuclear superpowers reached another level this month, after Washington and Moscow traded warnings ahead of the unauthorized US-led strike on Syria. Under Trump, the US has also taken the decision to supply lethal weapons to Ukraine, while introducing additional sanctions against Russia. On Wednesday, the US leader once again boasted that "there has been nobody tougher on Russia than President Donald Trump."
READ MORE: Strike on Syria won't remain without consequences – Russian ambassador to US
Despite a barrage of accusations leveled against Moscow, Russian officials have repeatedly reiterated that they are willing to work with their Western partners, including the US, to defuse any tensions that have built up over the last couple of years.
"Our countries need each other to define a joint program of work on strengthening international security," Antonov was quoted as saying earlier.
Think your friends would be interested? Share this story!