3 killed as 'historic' snowstorm blasts Midwest US (VIDEOS, PHOTOS)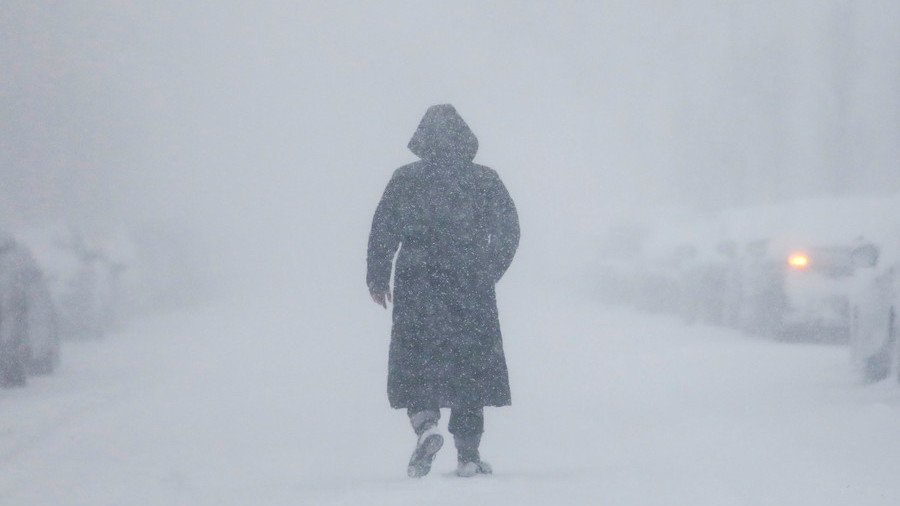 At least three people have been killed, including a sleeping two-year-old girl, as a violent spring storm has battered the Midwest with powerful winds and heavy snow.
The storm front swept across the Midwest this weekend, leaving large swathes of the region blanketed in snow. The city of St. Paul in Minnesota was forced to declare a snow emergency, while nearby Minneapolis is predicted to receive more than 50 centimeters of snow by the time the storm passes through the region.
Minneapolis–Saint Paul International Airport, which serves the two cities, was forced to cancel nearly 500 flights. Airport officials said the snow was falling too fast for plows to keep runways clear. Hundreds of crashes were reported across the state. Some 300 thousand houses were without electricity.
"This system will rank up there as one of the most significant winter storms in some time," the National Weather Service said, according to the Minneapolis Star Tribune. A short time later, the weather service declared the storm "historic."
"This is certainly one of the more powerful [storms] in recent memory," NWS meteorologist Jacob Beitlich said. "Any time you close a Twin Cities airport, it's gotta be usually a pretty bad snowstorm."
Blizzard conditions in South Dakota have led to extremely difficult driving conditions, prompting authorities to issue warnings against any type of travel. Sioux Falls Airport in the state has been closed for two days.
The bitter cold front had fatal consequences. Two drivers were killed in separate, weather-related vehicle crashes in Idaho and Wisconsin. A two-year-old girl was also killed in the Gulf state of Louisiana when a tree fell on the mobile home where she was asleep in bed.
The weather also upset the early weeks of the baseball season, resulting in game cancellations. The Minnesota Twins called off two games against the Chicago White Sox.
It was the first time there were back-to-back postponements of baseball games in the Minneapolis stadium's nine seasons. The Twins Twitter account posted a photo of team pitcher Fernando Rodney making his signature "arrow" celebration in the snow.
The stormy weather is forecast to persist through Sunday in Minnesota, Wisconsin and Michigan, before moving east into New York state and New England.
You can share this story on social media: