'A weak and untruthful slime ball': Trump tears into Comey for prostitute comment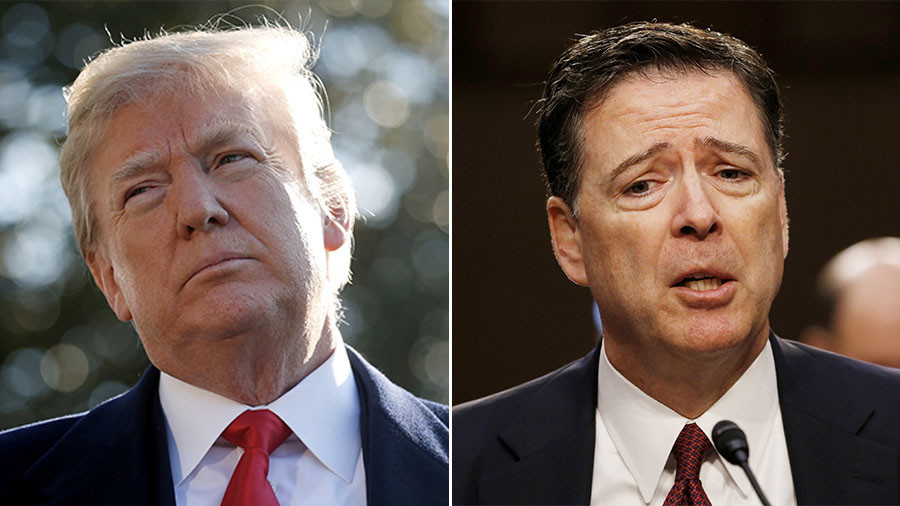 US President Donald Trump tore into former FBI Director James Comey on Friday, after Comey told ABC News' George Stephanopoulos "it's possible" Trump was with prostitutes in Moscow in 2013.
"James Comey is a proven LEAKER & LIAR," read a tweet from the president. "He is a weak and untruthful slime ball who was, as time has proven, a terrible Director of the FBI." Trump then savaged Comey for his handling of the investigation into Hillary Clinton's missing emails, and concluded that "It was my great honor to fire James Comey."
Trump's rage comes after Comey told ABC's Stephanopoulos that he might believe lewd allegations revealed in an unverified intelligence dossier before Trump's inauguration.
"I honestly never thought these words would come out of my mouth, but I don't know whether the current president of the United States was with prostitutes peeing on each other in Moscow in 2013," said Comey. "It's possible but I don't know."
The dossier in question was compiled by former British intelligence agent Christopher Steele on behalf of research firm Fusion GPS, and funded by Trump's opponents in the Democratic party. It alleges that while on a trip to Moscow in 2013, Trump hired two prostitutes to urinate on each other in a hotel room that Barack Obama had previously stayed in. It also alleges that the Russian Federal Security Service (FSB) recorded the encounter to use as blackmail against Trump.
The allegations were published in full by Buzzfeed, despite being totally unsubstantiated. Several other newspapers turned down the chance to publish the documents. "We're not in the business of publishing things we can't stand by," said New York Times executive editor, Dean Baquet.
At the time of his firing, Comey knew that the dossier had been funded by Trump's opponents, and that the allegations were most likely false. Comey was fired for his handling of the FBI investigation into Hillary Clinton's use of a private email server for classified emails during her time as secretary of state. Comey declined to press charges against Clinton in November 2016.
Comey told congress last year that he leaked details of a memo about Trump to the New York Times.
Comey also used his time on Stephanopoulos' show to call Trump's marriage into question. He recalled telling Trump about the dossier at a meeting in Trump Tower. Comey said that Trump reacted defensively, responding "do I look like a guy who needs hookers?" and expressed concern that his wife might believe the allegations.
"I remember thinking, how could your wife think there's a 1 percent chance you were with prostitutes peeing on each other in Moscow," Comey told Stephanopoulos. "I'm a flawed human being there's but literally zero chance that my wife would think that was true. So what kind of marriage to what kind of man does your wife think there's only a 99 percent chance you didn't do that."
Comey's explosive interview was conveniently timed from a publicity standpoint. The former FBI director's book 'A Higher Loyalty' releases next week. In it, he likens Trump to a mafia boss, and describes the president as "unethical, and untethered to the truth and institutional values. His leadership is transactional, ego driven, and about personal loyalty."
The Republican party has already set up a website, Lyin' Comey, to discredit the book.