Trump: Get ready Russia, missiles will be coming at Syria, nice and new and 'smart'!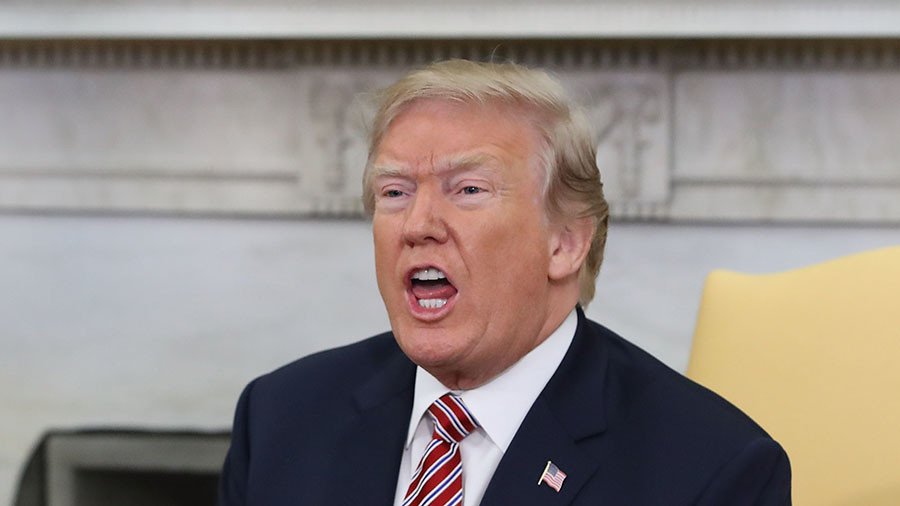 Donald Trump warned Russia to "get ready" after Moscow vowed to shoot any missiles fired at Syria down. "They will be coming, nice and new and smart," Trump tweeted.
Russia vows to shoot down any and all missiles fired at Syria. Get ready Russia, because they will be coming, nice and new and "smart!" You shouldn't be partners with a Gas Killing Animal who kills his people and enjoys it!

— Donald J. Trump (@realDonaldTrump) April 11, 2018
The tweet appears to be an unofficial announcement of the "major decisions" which Trump said Washington would soon be making regarding the alleged chemical attack in Syria.
It comes after Russia vowed to shoot down any US missiles aimed at Syria. "If there is an American strike, then we... will shoot down the missiles and target the positions from where they were launched," Alexander Zasypkin, the Russian envoy to Beirut, said on Wednesday. "In the past few days, we have seen an escalation towards a significant crisis."
The Pentagon said in a statement that it "does not comment on potential future military actions," and referred any questions regarding Trump's tweet to the White House.
Trump has been quick to point the finger at Syrian President Bashar Assad regarding the alleged chemical attack, despite the fact that investigators from the Organization for the Prohibition of Chemical Weapons (OPCW) have yet to begin an official investigation into the matter.
His allegations also come after the Russian military traveled to the scene of the alleged incident and determined that there was no evidence of any chemical attack.
READ MORE: No trace of chemical weapons at alleged attack site in Douma – Russian military
Trump isn't the only US official to prematurely point the finger at Assad. US ambassador to the UN Nikki Haley was quick to call him a "monster" following reports of the alleged attack. She referred to the Syrian government as a "murderous regime."
Meanwhile, Russia's Ambassador to the UN Vassily Nebenzia has warned against the US carrying out an "illegal military endeavor," adding that he hopes Washington "comes to its senses."
Trump has been holding calls with his British and French counterparts. It remains unclear whether the UK will take part in military action, after a report in The Times suggested that Prime Minister Theresa May is waiting until there's evidence of Syria's culpability for the alleged attack.
You can share this story on social media: