Activists arrested at Chuck Schumer's Manhattan office following Gaza protest
Published time: 9 Apr, 2018 20:03
Edited time: 10 Apr, 2018 09:00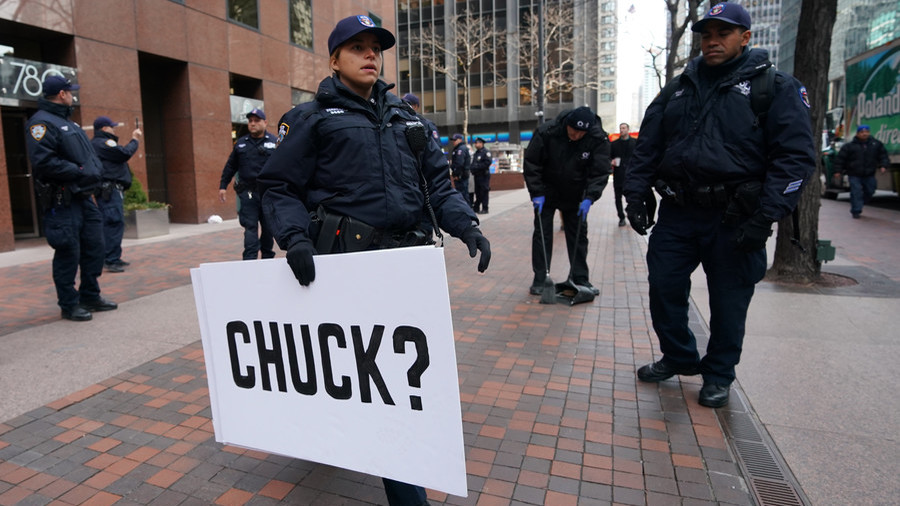 Eight Jewish activists have been arrested at US Senator Chuck Schumer's New York City office, following a protest over Israel's crackdown on Palestinians in Gaza.
The protesters blocked the door to Schumer's office for 90 minutes on Monday morning, demanding that the senator condemn Israel's brutal crackdown on Palestinian protesters in Gaza, which saw at least 30 people killed and more than 1,000 injured.
The violence began in response to the 'Great Return March' — one of the biggest Palestinian protests in years.
"Senator Schumer claims to be a progressive champion and leader in the American Jewish community, so his silence in the face of Israel's use of deadly force against Palestinian protesters is deafening," the Jewish activist group IfNotNow said in a statement.
The group demanded that Schumer "live up to both progressive and Jewish values and do the bare minimum that we could expect from any moral leader: Condemn the use of live fire against protesters".
Forty members of the IfNotNow group entered the building where Schumer's office is located and read the names of the people killed during the protests in Gaza. They also recited the Mourner's Kaddish, the Jewish prayer traditionally recited in honor of the deceased.
Schumer's staff refused to release a statement condemning Israel, prompting a smaller group of the activists to block the door to his office.
American officials are generally reluctant to criticize Israel's policies or its actions, due to the huge lobbying efforts of the American-Israel Political Action Committee. The few who do dare to criticize Israel are often labeled as "anti-Semitic" for their views. American media typically shows a similar reluctance to harshly criticize Israel.