US not ruling out military action against Syria after reports of chemical weapons use – Mattis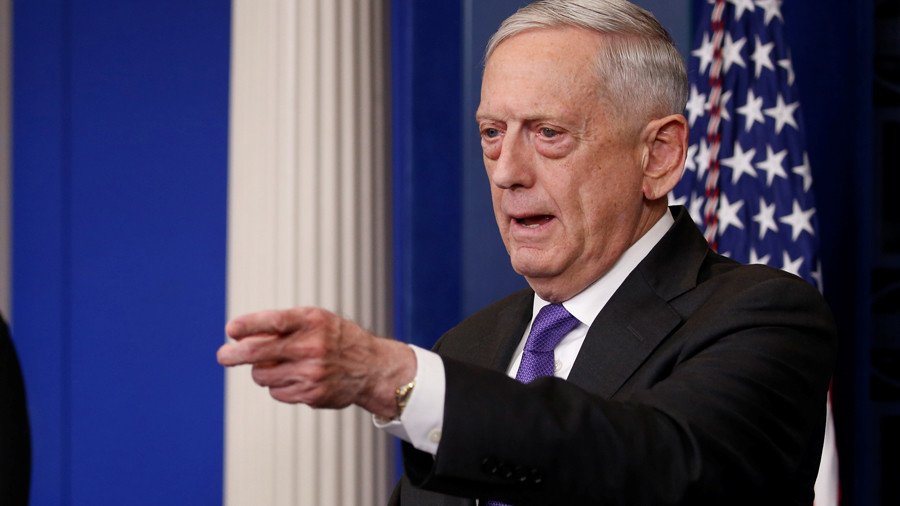 US Defense Secretary James Mattis has not ruled out the possibility of launching airstrikes against Syria in response to an alleged chemical attack in the militant-held town of Douma.
Speaking with reports on Monday, Mattis said he wouldn't "rule out anything right now" after being asked if the US was mulling strikes against Syrian President Bashar Assad.
"The first thing we have to look at is why chemical weapons are still being used at all. Russia was the framework guarantor of removing all the chemical weapons and so working with our allies and partners, from NATO to Qatar and elsewhere we are going to address this issue," he added.
Saturday's alleged chemical attack in Douma, Eastern Ghouta, comes as pro-government forces conclude an operation that has liberated nearly the entire region from Islamic militants. The alleged chemical incident was reported by the White Helmets, a controversial group repeatedly accused of having ties to terrorists and it could not be confirmed by Red Crescent medics on the ground.
Following the reports, two Israeli warplanes targeted a Syrian airbase in Homs on Sunday night, according to the Russian and Lebanese militaries. The Israeli jets fired eight missiles, five of which were intercepted, the Russian military said.
The Israeli strike came just hours after US President Donald Trump warned the Syrian government that there would be consequences for the alleged attack.
The Russian Foreign Ministry dismissed reports that the Syrian government was responsible for the alleged incident, saying the claims were yet another example of a "continuous series of fake news about the use of chlorine and other chemical agents by the government forces."
"The goal of this… baseless speculation is to shield the terrorists and… the radical opposition that refuse to engage in a political settlement [process], as well as to justify potential military strikes from the outside," the ministry said in a statement.
READ MORE: Forget about Gaza, bomb Assad! Israeli hawks urge US to strike Syria over Douma 'chem attack'
Moscow went on to warn that any military action taken in response to the alleged attack would be "absolutely unacceptable" and could lead to "dire consequences."
Last year, militants in the town of Khan Sheikhoun, Idlib province, made similar accusations against Damascus, blaming Assad for an alleged chemical attack that purportedly killed 80 people and injured 200. In retaliation, Trump launched dozens of Tomahawk missiles at a Syrian military base near Homs.
You can share this story on social media: