'Can't build wall if hands are too small': Mexico's ex-president trolls Trump with T-shirt (PHOTO)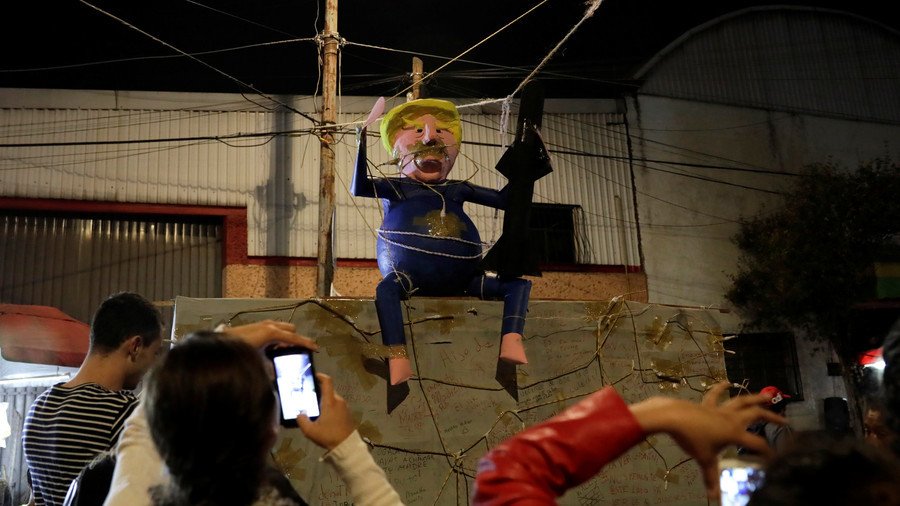 Mexico's former head honcho Vicente Fox is fundraising for a cause and throwing shade at Donald Trump, with a T-shirt range trolling the US president's supposedly small hands.
Talk of Trump having abnormally small hands dates back to the Republican campaign trail in 2016, when GOP party rival Marco Rubio levelled the bizarre accusations against then candidate Trump.
READ MORE: Troops on the border: Trump ups ante in immigration battle
Now Vicente Fox, who once likened Trump to Adolf Hitler, has launched a new line of T-shirts that poke fun at the commander-in-chief's much vaunted plans to build a border wall with Mexico, and at the US president's mitts.
The unusual apparel is an effort by Fox to raise cash for the Centro Fox Foundation, which aims to educate future Latin American leaders in social values. Emblazoned with a cartoon of a baby Donald Trump wearing a soiled diaper, the T-shirt's slogan reads: "Can't build a wall if your hands are too small."
It is retailing for US$24.99 on Represent.com, where Fox has left a message explaining that the clothing isn't just about his opposition to a Mexico-funded border wall, but also about "acceptance, equality and inclusion of all people."
READ MORE: Trump 'reminds me of Hitler' - ex-Mexican President Vicente Fox
Since Trump's political rise, the former president of Mexico has slammed the Republican on a number of occasions, regarding his comments about the Latino community and his plans to raise a massive wall, or fence, between the two nations.
"He has offended Mexico, Mexicans, [and] immigrants. He has offended the Pope. He has offended the Chinese. He's offended everybody," Fox said in February 2016.
"Today, he's going to take that nation back to the old days of conflict, war and everything. I mean, he reminds me of Hitler. That's the way he started speaking."
Think your friends would be interested? Share this story!
You can share this story on social media: