Trump ally detained by FBI at Boston airport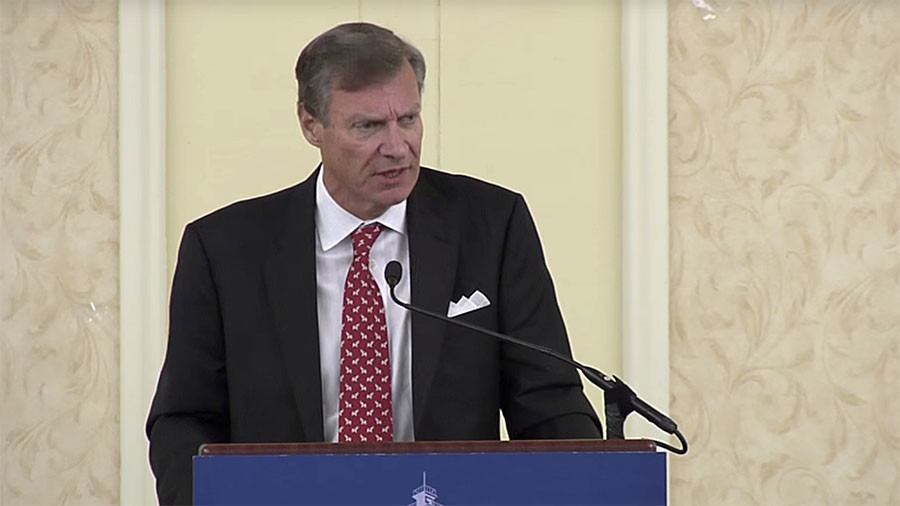 London-based academic and Donald Trump ally Ted Malloch was detained and interrogated by the FBI as he flew into Boston's Logan International Airport.
Malloch, an American citizen, was detained and interrogated on Wednesday, before being issued a subpoena to testify before special counsel Robert Mueller about alleged Russian interference in the 2016 election. Mueller's investigation has been called a politically-motivated "witch hunt" by US President Donald Trump.
Malloch was also interrogated by agents about his links to Republican strategist Roger Stone, and was asked whether he had ever visited WikiLeaks' Julian Assange at the Ecuadorian Embassy in London. As special counsel, Mueller is also investigating how WikiLeaks managed to obtain emails from the Democratic National Committee and Hillary Clinton's campaign team, an investigation Roger Stone is implicated in.
The single greatest Witch Hunt in American history continues. There was no collusion, everybody including the Dems knows there was no collusion, & yet on and on it goes. Russia & the world is laughing at the stupidity they are witnessing. Republicans should finally take control!

— Donald J. Trump (@realDonaldTrump) 10 января 2018 г.
News of Malloch's detention broke first on Alex Jones' Infowars website, where he is a regular contributor and frequent guest on The Alex Jones Show. Malloch later detailed his detention and interrogation in a statement to The Guardian.
The FBI agents confiscated Malloch's phone and "seemed to know everything about me," he said in his statement about the experience.
BREAKING: The FBI is detaining contributors to Infowars (Ted Malloch) and accusing them of being "Russian agents" & forcing them to testify in front of a grand jury.Join our live emergency broadcast at 7pm CST for more information.

— Paul Joseph Watson (@PrisonPlanet) 28 марта 2018 г.
In his statement, Malloch said that he had only ever worked with the Trump campaign in an informal capacity, that he had never met with Roger Stone alone, that he had no Russian contacts, and that he had never visited Assange.
Malloch is known as a friend and ally of former UKIP leader and MEP Nigel Farage. Last year, he was briefly touted as one of Donald Trump's potential picks for EU ambassador. The rumour provoked howls of derision in Brussels, as MEPs rushed to attack Malloch's lack of diplomatic experience and anti-EU stance.
"For the sake of the current and future relationship with the US administration, we strongly recommend President Trump not appoint Mr Malloch as next US ambassador to the EU. Should President Trump be otherwise willing to challenge Europe so blatantly, I think the EU should then declare him (Mr Malloch) 'persona non grata'," Socialist Democrat MEP Gianni Pittella told The Guardian at the time.
Speaking about his detention, Malloch concluded: "They did not need to use such tactics or intimidation. I was a US patriot and would do anything and everything to assist the government and I had no information that I believed was relevant."
If you like this story, share it with a friend!



You can share this story on social media: