US to allocate $250mn to 'tackle Russian influence' amid soaring military spending & budget deficit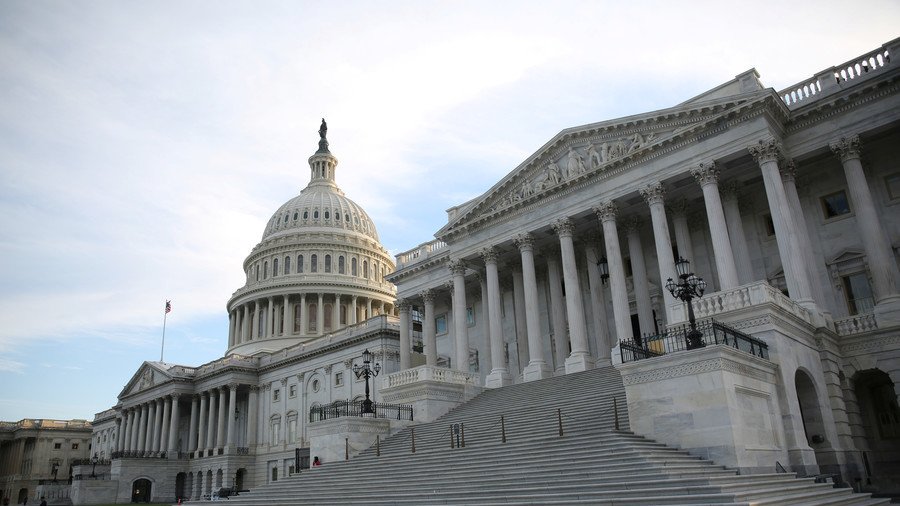 The US is allocating $250 million to counter Russian influence, according to a government spending bill, which also provides for a record boost in US defense spending and a significant sum for military assistance to Ukraine.
With claims and allegations of Russian meddling swirling around Washington DC since the 2016 election, "not less than $250,000,000 shall be made available to carry out the purposes of the Countering Russian Influence Fund," the 2,200-page Consolidated Appropriations Act, unveiled by the US Congress on Wednesday, states.
While accusing Moscow of interference in the US election, the bill makes no effort to hide America's own plans to meddle in Russia's internal affairs. "Funds appropriated by this Act shall be made available to support democracy programs in the Russian Federation, including to promote Internet freedom," the document reads.
The US has been increasingly focused on trying to detect and counter the perceived Kremlin-backed attack on American democracy on all fronts since the 2016 elections. In early March, the US State Department and then-Secretary of State Rex Tillerson even faced criticism, after it was revealed that the agency didn't spend a single dollar out of the $120 million it received for countering "Russian and Chinese propaganda."
In February, a US Special Counsel indicted 13 Russian nationals and three Russian entities on charges of trying to sow discord in America via their activities on social media. The document, however, did not mention the Democratic National Committee (DNC) hack or indicate that there was any collusion with the Trump campaign. It also confirmed there was no evidence of any impact on the outcome of the election or links to the Russian government. Moscow has repeatedly denied Washington's accusations, with Vladimir Putin again telling the NBC in early March that those indicted had nothing to do with the Russian government.
Nevertheless, the $1.3 trillion government spending draft also provides $380 million to protect the US voting system from cyberattacks. Despite the Department of Homeland Security saying last year that there was no evidence of any votes being altered by Russian or any other hackers in 2016, the US intelligence officials have been warning that midterm elections in November could be targeted.
Among other things, the Consolidated Appropriations Act provides an $80 billion increase in defense funding, the largest in 15 years, also earmarking $1.6 billion in funds for the construction of the fence along the Mexican border, one of Trump's most controversial campaign promises.
The US budget also allocated $200 million for military assistance to Ukraine, which included 'lethal defensive weapons' aid to Kiev. "For the 'Ukraine Security Assistance Initiative', $200,000,000 is hereby appropriated, to remain available until September 30, 2018," the document mandates.
READ MORE: State Dept has $120mn war chest for Russia-bashing – and ex-envoy McFaul wants to spend it
The funds are expected to be spent on "training; equipment; lethal weapons of a defensive nature; logistics support, supplies and services sustainment; and intelligence support to the military and national security forces of Ukraine, and for replacement of any weapons or defensive articles provided to the Government of Ukraine."
US President Donald Trump has to approve the bill by Friday in order to avoid a government shutdown. The US government already briefly stopped operating in January and February as the lawmakers were unable to agree on the funding. "The president supports the bill, looks forward to signing it," Mick Mulvaney, Office of Management and Budget director, said on Thursday.
Think your friends would be interested? Share this story!
You can share this story on social media: