Austin bomber suspect dead after blowing himself up – police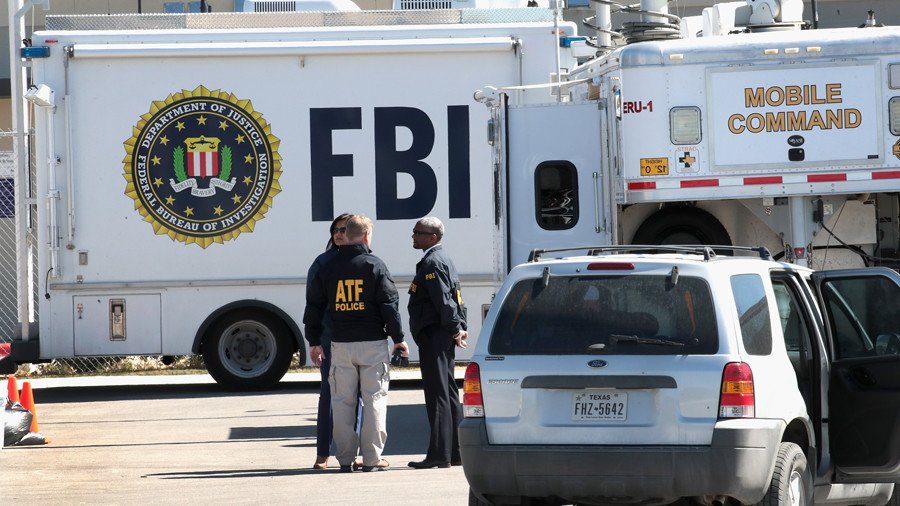 The Austin bombing suspect, who has been keeping the public and authorities on high alert for days, is dead after blowing himself up in a car, police announced during a press conference.
According to Chief of Police Brian Manley, law enforcement pinpointed the person in a car in Round Rock, 27km from Austin and followed him. Police were waiting for ballistic vehicles to arrive when the man's automobile began to drive away, but soon stopped in a ditch at the side of the road.
A SWAT team then approached the vehicle, but the suspect blew himself up, injuring one of the special operators. The perpetrator was identified as a 24-year-old Mark Anthony Conditt.
"The suspect is deceased and has significant injuries from a blast that occurred from detonating a bomb inside his vehicle," Manley confirmed.
Police are still investigating whether the suspect had any accomplices. The police chief added: "We believe this individual is responsible for all of the incidents in Austin." Manley urged local residents to remain vigilant and on the lookout for other possible explosives as police "don't know where [the suspect] has been in the past 24 hours."
"We don't know if he was on his way to deliver another bomb," he told reporters. "He had one with him and that's what he detonated as we approached."
On Tuesday, a woman was injured in an explosion at a FedEx facility near San Antonio, Texas. The package was reportedly destined for Austin, which has been targeted by a serial bomber in recent weeks.
At least two people were killed and several injured in a series of bombings that have rocked Austin since March 2. The Tuesday blast near FedEx was the fifth in the series of similar incidents.
According to White House spokesperson Sarah Sanders, the spate of bombings in the Texas capital have no known links to terrorism. "We are committed to bringing the perpetrators of these heinous acts to justice. There is no apparent nexus to terrorism at this time," she said.
The first three of the Austin bombings were packages that detonated outside residences. The fourth was a tripwire device which went off near a sidewalk. Austin Police, the FBI and Bureau of Alcohol, Tobacco, Firearms and Explosives (ATF) confirmed that two packages located at separate FedEx offices were linked to the previous explosives.
Think your friends would be interested? Share this story!