'They were on our side': Facebook 'allowed' Obama campaign to mine data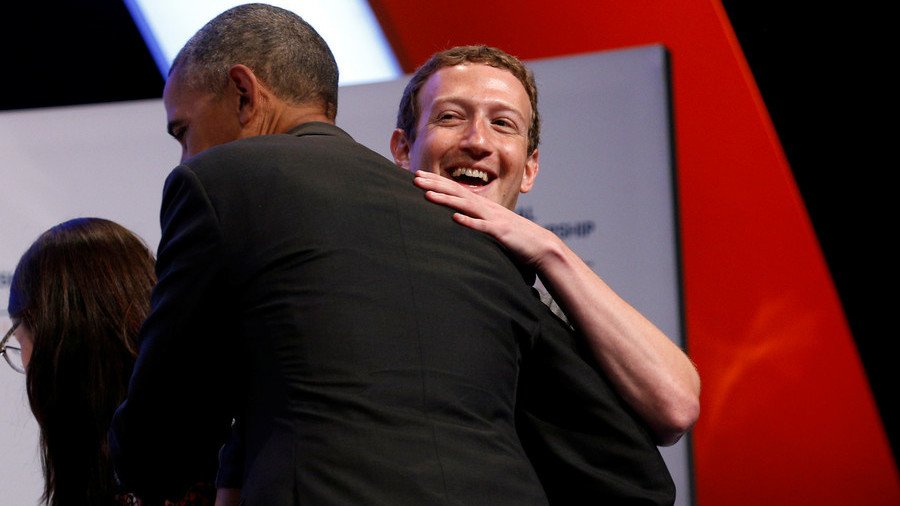 As Facebook faces public anger over Cambridge Analytica harvesting personal information for the Trump campaign, it's been revealed that the social media giant allowed Barack Obama to do the same in 2012.
Carol Davidsen, former director for media analytics for Obama's 2012 campaign, has poured oil onto the fire by reveling in a series of tweets that Facebook allowed them to do "things they wouldn't have allowed someone else to do."
That reportedly included "suck[ing] out the entire social graph" – an individual's network of friends on Facebook – in a bid to target more and more potential voters through friends' friends on social media.
After Facebook "realized" what the Obama campaign staffers had been doing, they preferred to turn a blind eye for one simple reason: "they were on our side," Davidsen claimed.
Davidsen tweeted a link to a Time article, written in 2012, shedding some light on the Obama campaign's Facebook targeting campaign, which according to her was codenamed "Project Taargus."
"…the more than 1 million Obama backers who signed up for the [Facebook-based app] gave the campaign permission to look at their Facebook friend lists. In an instant, the campaign had a way to see the hidden young voters. Roughly 85% of those without a listed phone number could be found in the uploaded friend lists. What's more, Facebook offered an ideal way to reach them. 'People don't trust campaigns. They don't even trust media organizations,' says Goff [Teddy Goff, the Obama campaign's former digital director]. 'Who do they trust? Their friends.'"
Davidsen also shared a link to a talk from 2015, in which she recalled how Facebook's privacy policies in 2012 helped the Obama team win an army of supporters.
"The privacy policies at that time on Facebook were – if they opted in, they could tell us who all their friends were. So, they told us who all their friends were. We were actually able to ingest the entire social network of the US that's on Facebook, which is most people."
But that was back then. Now, the more privacy-concerned public have sent the shares of Facebook tumbling following reports in the New York Times and the Observer that data analytics firm Cambridge Analytica, which worked for Donald Trump's 2016 election team, harvested private information from more than 50 million Facebook users.
Facebook said it was suspending Cambridge Analytica after finding data privacy policies had been violated.
NSA whistleblower Edward Snowden tweeted Saturday that Facebook is a "surveillance company" that sells its users' personal details.
"Businesses that make money by collecting and selling detailed records of private lives were once plainly described as 'surveillance companies,'" the former National Security Agency contractor wrote. "Their rebranding as 'social media' is the most successful deception since the Department of War became the Department of Defense," he added.


You can share this story on social media: