Red, white & booze: 37mn Americans are 'binge drinkers,' CDC study says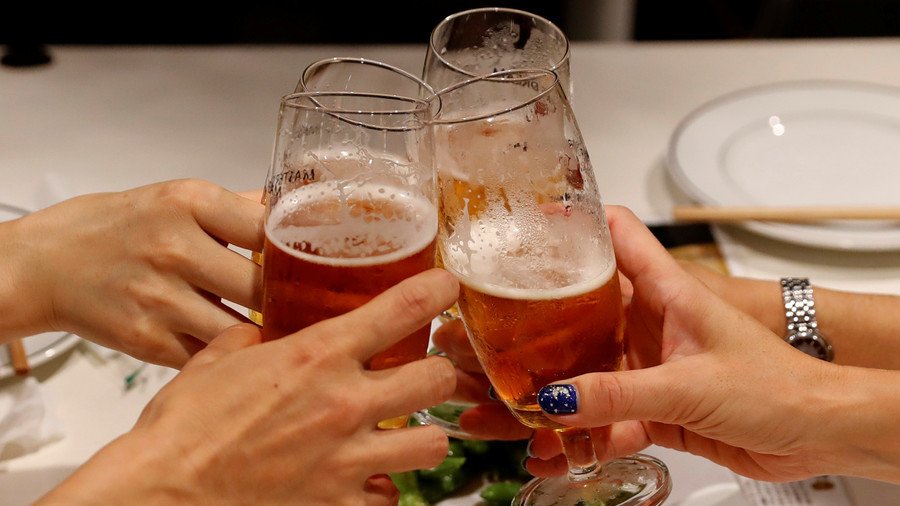 Americans are no strangers to boozing it up, according to a new study that found that one in six US adults are binge drinkers. Alcohol enthusiasts in the US are chugging a collective 17.5 billion "binge drinks" per year.
The study, conducted by the Centers for Disease Control and Prevention (CDC) National Center for Chronic Disease Prevention and Health Promotion, found that 37.4 million Americans, or one out of every six adults, binge drink about once a week. They drink an average of about seven drinks per binge, meaning they chug a collective 17.5 billion drinks each year. That boils down to about 470 binge drinks, per binge drinker, annually.
"This study shows that binge drinkers are consuming a huge number of drinks per year, greatly increasing their chances of harming themselves and others," study co-author Robert Brewer, lead researcher in the CDC's alcohol program, said in a statement.
The results came after Brewer and his team examined CDC data from the center's 2015 Behavioral Risk Factor Surveillance System (BRFSS). The team used the data to calculate annual estimates of binge drinking, which is defined as men drinking five or more drinks over the course of two hours, or women drinking four or more drinks over the same period. A single drink is defined as a shot of hard liquor, a five-ounce glass of wine, or a 12-ounce glass of beer at five percent alcohol.
Once the team examined the data, they divided the findings by age, sex, education, race/ethnicity, household income, and state. They found that binge drinking was most common among adults aged 18 to 34, but more than half of all binge drinks consumed were from adults ages 35 years and older. In other words, older drinkers don't binge drink as often, but they tend to really hit the bottle when they do.
When males and females were compared side-by-side, it was revealed that men are much more likely to be binge drinkers. In fact, four out of five binge drinks were found to be consumed by males. Income also played a role, as the researchers found that people with lower household incomes (less than $25,000 annually) and lower educational levels (less than high school) "consumed substantially more" than those with higher salaries and education levels.
Comparing the race of binge drinkers, the researchers found the biggest drinkers were non-Hispanic whites (19.2 percent) and American Indians/Alaska Natives (17.9 percent). Most binge drinkers were located in Arkansas, Mississippi, Kentucky, and Hawaii. Meanwhile, Washington DC, New Jersey, New York, and Washington had the fewest numbers of binge drinkers.
The results demonstrate there is a need to focus on the prevention of excessive drinking, according to Brewer. "The findings also show the importance of taking a comprehensive approach to prevent binge drinking, focusing on reducing both the number of times people binge drink and the amount they drink when they binge," he said.
It is worth noting that America's binge drinking is likely worse than the study implies, as the BRFSS relies on self-reported data from a phone survey, and study respondents are thought to underreport their drinking habits. The CDC study, which was published in the American Journal of Preventive Medicine on Friday,was based on a survey from 2015 that asked around 400,00 Americans over the age of 18 about their alcohol consumption "in the past 30 days."
Binge drinking is responsible for more than half of the 88,000 alcohol-attributable deaths in the US each year, according to the CDC. It is also the cause of 75 percent of the $249 billion in economic costs associated with excessive drinking in the US.
You can share this story on social media: