Arrests & crimes against homeless in Los Angeles on the rise – report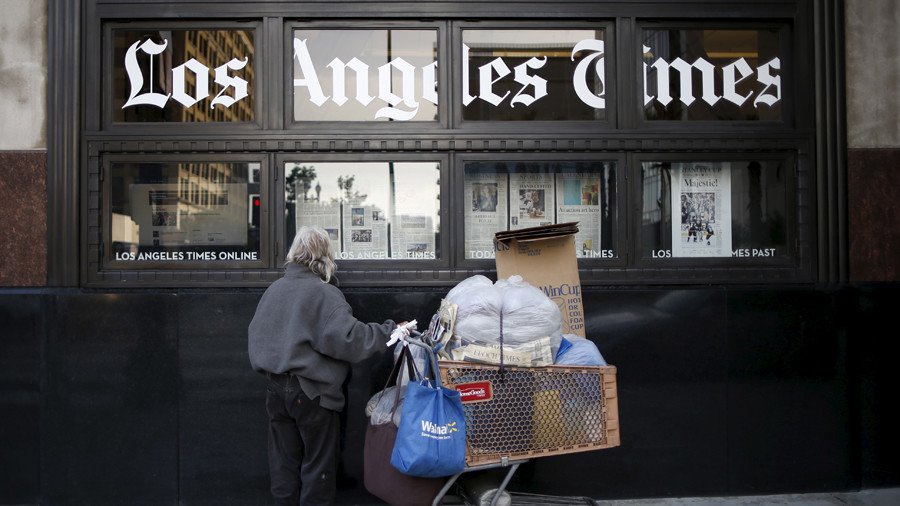 More homeless people in Los Angeles were arrested for felonies and misdemeanors, and were were also subjected to more police use of force in 2017 than in the previous year. Crimes against LA's homeless have also risen.
A new report by the Los Angeles Police Department puts the grim reality of an estimated 34,000 people living rough into figures. The city has the second largest homeless population in the country.
Latest figures from the LAPD indicate that homeless people are being increasingly criminalized.
LAPD officers made over 6,600 misdemeanor arrests of homeless people in 2017, a 9 percent increase from 2016, according to the LAPD's end of year homelessness report released on Tuesday. Felony arrests jumped by 12 percent.
The report also indicates that homeless people are increasingly on the receiving end of police force. There was a 20 percent rise in 2017 of 'non-categorical use of force', which is non-lethal violence, against homeless people, compared with the previous year.
Crimes against homeless people also increased by 14 percent from 2016 to 2017.
In an address to the media on Tuesday, LAPD Chief Charlie Beck defended the arrest surge, saying that a major cause of the increase in arrests was the ballooning homeless population in LA. He said that a 20 percent increase in homeless people on the streets "is the primary" driver of the spike.
"As a last resort, a tool, one tool of many tools, we turn to enforcement," added Dominic H. Choi, the LAPD's homelessness coordinator, in a public discussion on Tuesday, according to the LA Times. "We have to have a balanced approach."
The LAPD's Homeless Outreach and Proactive Engagement (HOPE) program, a partnership between police and organizations such as the Los Angeles Homeless Services Authority to deliver services to the homeless, came under fire from some charities.
"It is not a criminal problem and it's not what the LAPD was designed to do. Let the LAPD do what it does and let us build an emergency response that's designed for homelessness," said Greg Spiegel, public policy director of the Inner City Law Center.
The report notes that HOPE teams had over 16,000 contacts with homeless people in 2017, with only 9 percent resulting in an enforcement action.
Homelessness has dramatically mushroomed in LA, rising by 75 percent in the last six years according to the LA Times. There are an estimated 34,000 homeless people in Los Angeles, about 1 percent of the city's total population, the second highest rate in the US.
Rents in Los Angeles County have increased 32 percent since 2000, according to the California Housing Partnership.

Think your friends would be interested? Share this story!

You can share this story on social media: