'I could smell smoke': High school evacuated as ISIS-supporting student brings bomb to class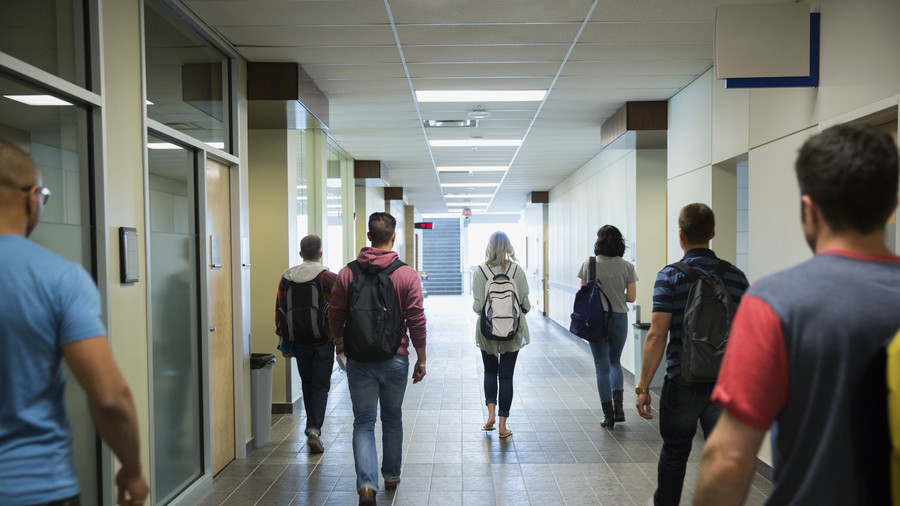 A teenager has been charged with bringing a homemade bomb into a Utah high school. Students spotted a backpack emitting smoke, prompting an evacuation of some 1,100 kids on Monday.
Following the discovery of the device at the Pine Valley High School in the city of St George, the school was evacuated for two hours while bomb squad officers swooped in to disarm it. Upon investigation, officers concluded the device "had the potential to cause significant injury or death" if it had detonated.
"I could smell a smoke smell and my friends actually saw it before I did," 17-year-old Pine Valley student Jack Whalen told local media outlet KUTV.
An unidentified male student of the school was arrested on Monday night and has been charged with the "manufacture, possession, sale, use or attempted use of a weapon of mass destruction," police said in a statement.
The same boy is also suspect of raising of an Islamic State (IS, formerly ISIS) flag at a school in the neighbouring city of Hurricane on February 15 – the day after the mass shooting in Parkland Florida during which teenager Nicolas Cruz is alleged to have killed 17 people.
"It was also determined that the male had been researching information and expressing interest in ISIS and promoting the organization," police added. Hurricane City Police confirmed that the boy was a suspect in raising the Islamic State flag and that charges will be forthcoming.
Meanwhile, on the other side of the continent an 8-year-old boy was charged with the felony grade crime of making a terrorist threat at a school in Delaware. Local media reports that the boy threatened to burn down the Charlotte Valley Central School in the town of Davenport.
Following the incident police urged "all parents to openly communicate with their children and impress upon them that any threats, whether real or perceived, and inappropriate comments or postings on social media regarding any potential school violence will likely result in legal action and disciplinary action being taken against them."
Think your friends would be interested? Share this story!
You can share this story on social media: