Trump and Netanyahu discuss Palestine in WH meeting for just '15 minutes'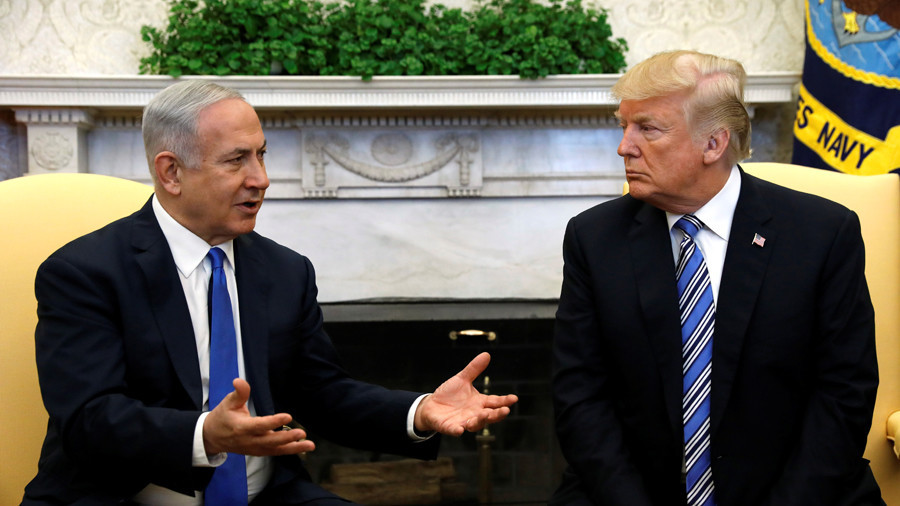 Donald Trump and Israeli Prime Minister Benjamin Netanyahu spent just 15 minutes discussing Palestine in their meeting at the White House. The contentious question of settlements didn't come up at all.
"We also spoke about Syria, Iraq, Lebanon and the Palestinians. Around half the time about Iran, maybe even a little more, and the second half on the rest of these issues. We didn't spend more than 15 minutes of the conversation on the Palestinian issue," Netanyahu told journalists on Tuesday, about his two-and-a-half-hour conversation with Trump the day before.
Netanyahu also said that "the evacuation of settlements didn't come up at all" during the course of their meeting. The anger over the decades-long settlement dispute intensified this February with the trial of 16-year old Palestinian activist Ahed Tamimi who has protested against Israeli occupation.
The teen, who has become a poster child for Palestinian resistance, is charged with aggravated assault, after striking two Israeli soldiers in the West Bank in December 2017. Prior to the incident, Tamimi's cousin had been seriously injured when he was shot in the head with a rubber bullet by an Israeli soldier.
Israel has received international condemnation for prosecuting the teen. NGO Human Rights Watch called Tamimi's pre-trial detention a "violation of international law and unnecessary."
Netanyahu also disclosed that he has not reviewed the Trump administration's peace proposal and cannot confirm it even exists at all. "We did not see a draft of their peace plan. I cannot say on their behalf whether there is one or not. They will decide when to release it," he said.
In his briefing Netanyahu maintained that Israel does not seek to govern Palestine directly. "I said that we have no desire to govern the Palestinians, but we have every desire to protect ourselves," he said. "The main thing is that the security control west of the Jordan River remains in our hands, and we cannot see anyone else assuming that responsibility."
The meeting between Netanyahu and Trump was the fifth over the past year.
Netanyahu also addressed the annual American Israel Public Affairs Committee (AIPAC) policy conference on Tuesday in Washington D.C. , talking mainly about stopping Iran and receiving lavish ovations.
Pro-Palestine demonstrators have assembled outside AIPAC venue over the course of the conference to protest Israeli occupation as well as Trump's decision to move the US Embassy in Israel to Jerusalem.
RT freegazaorg "RT aletweetsnews: It's day one of #AIPAC and pro-Palestine groups are marching on the convention center against a lobby they see as "simply evil."Updates in this thread. pic.twitter.com/8bk2jjchX2"

— Richard Hardigan (@RichardHardigan) 5 March 2018
Speaking to RT's 'Going Underground' in January, Ahed's father, Bassem Tamimi, said "There is nothing more provocative than Israel's occupation [of Palestine]...so the normal reaction is to resist,".
Think your friends would be interested? Share this story!