California couple arrested after police find children living in desert shelter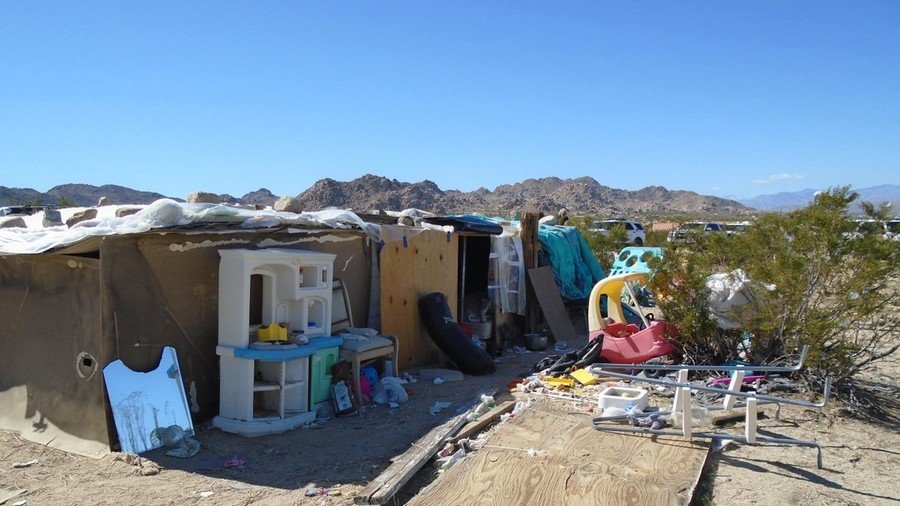 Police have arrested a couple after their three children were discovered living in a squalid dwelling in the California desert. The parents are being held in jail on suspicion of child cruelty, with their bail set at $100,000.
The San Bernardino County Sheriff's Department discovered the family living in a plywood box assembled with mattresses in Joshua Tree, a remote desert area in southern California. The family was homeless and lived there for four years, authorities believe.
The children were described as 14, 13 and 11 years of age. They are not believed to be malnourished and were in "good spirits" when they were discovered, police said.
"They're homeless. It's a shelter, the shape of a box," said Captain Trevis Newport of the Sheriff's Morongo Basin Station. Deputies initially assumed that the dwelling was abandoned.
The makeshift property was surrounded by heaps of rubbish and several holes brimming with human feces. There was no electricity, running water or a bathroom. At least 30 cats also roamed the premises.
"It's just tragic that these children were being raised in conditions like this," said Cindy Bachman, a spokeswoman for the sheriff's department. "When that wind blows, it is freezing...These kids are living in a shelter made of wood and tarp and it's 20 to 30 degrees at night."
The children did not have enough food and were living in an "unsuitable and unsafe" environment, the sheriff's department said. Officials from the county's Children and Family Services took the children into custody.
Mona Kirk, 51, and Daniel Panico, 73, were arrested on Wednesday on suspicion of willful cruelty to a child. Kirk and Panico are being held in Morongo Basin Station jail with their bail set at $100,000. They are set to appear in court on Friday. One neighbor came to the family's defense.
"There's people out there in the gutters raising their kids in less environment, in cardboard boxes and having to go to the bathroom in the gutters and they don't get arrested. They need help but they're not getting arrested," Mike Reynolds, who claims to have known the family for years, told CBS.
California is experiencing a major homelessness crisis, with at least 130,000 homeless people living in the state in 2017, a 14 percent increase from the year before.
Like this story? Share it with a friend!
You can share this story on social media: