'Cops were being killed': Trump says police thank him for Obama-blocked military gear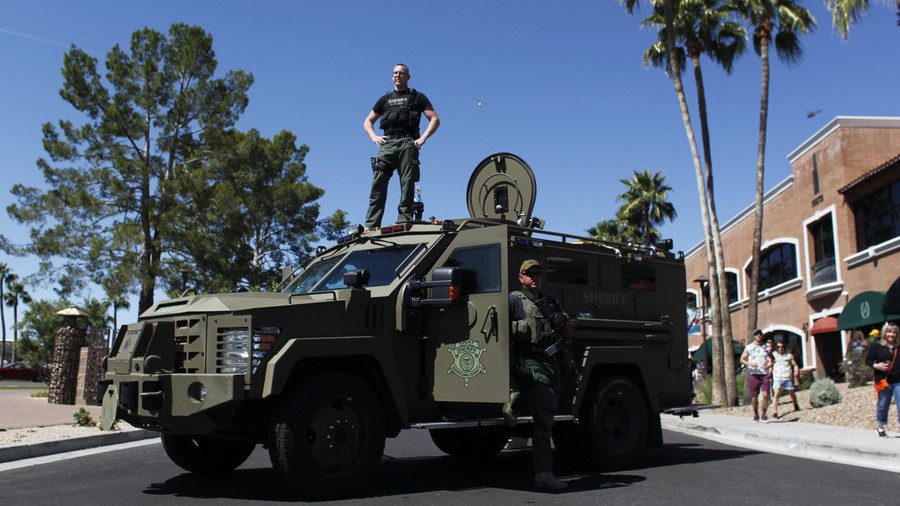 US President Donald Trump says he is constantly being approached by police officers who want to thank him for restoring their access to military equipment, including grenade launchers and armored vehicles.
In a wide-ranging address to US state governors at the White House on Monday, Trump said when he visits cities around America he is routinely approached by cops who want to show their appreciation for the surplus military equipment. Trump restored police access to Pentagon hand-me-downs last year, lifting restrictions that were put in place by his predecessor Barack Obama.
"One of the things that the previous administration wouldn't do is, this incredible equipment that we have, excess military equipment, [they] wouldn't give it to your police. Would not give it to your law enforcement. They didn't like the idea, the administration, of armored vehicles," he told the audience, taking a potshot at Obama.
"Why wouldn't they want that?" he asked. "People were in danger, people were being killed, people were being shot, people were being hit with rocks, during some bad times in some rough places."
Under the program known as 1033, more than $5 billion in surplus military hardware was given to US police forces from the 1990s up to 2015, when Obama cancelled the arrangement, according to the New York Times. Over 120 armored vehicles, 138 grenade launchers and 1,623 bayonets were returned to the Pentagon after Obama revoked 1033.
Following the program's reinstatement, Trump said police have been handed "hundreds of millions of dollars" worth of military hardware.
"I tell you every time I go to your cities they come up to me, the police, and they say 'thank you so much for that equipment, we feel so much safer'. They can go in an armored van up to a site and not worry about being shot or being hit in the head with a rock," the president added.
News feeds from major incidents in the US often show special police teams (SWAT) wielding assault rifles and grenade launchers, as well as using armored vehicles. Both were in evidence during this month's school shooting in Parkland, Florida, but did not play a role in stopping the attack or arresting the perpetrator.
Like this story? Share it with a friend!