What's smoked in Vegas, stays in Vegas: Sin City airport installs weed bins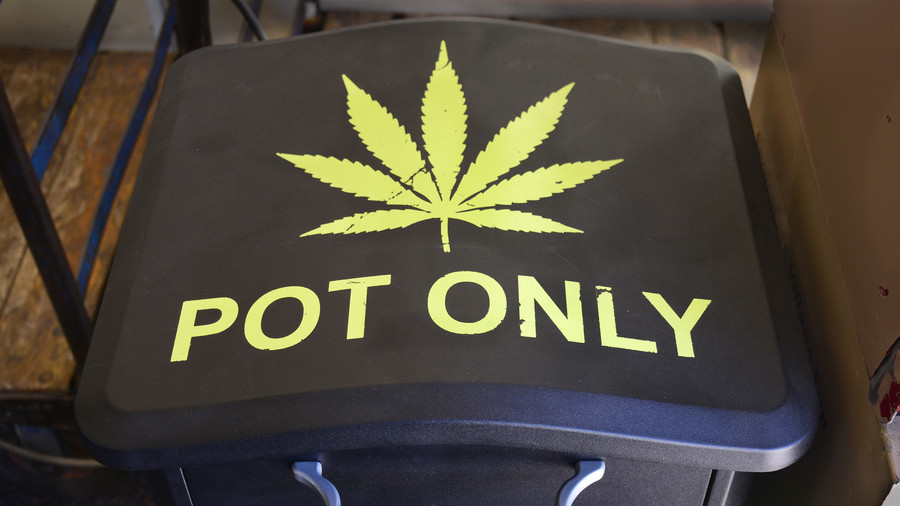 Las Vegas airport introduced weed disposal boxes so tourists enjoying the state's legal marijuana don't smuggle drugs across the border. The boxes are a 'blunt' way to ensure stoners on the ground aren't also high flyers.
Nevada legalized recreational marijuana but, as it's still illegal under federal law, it isn't okay to bring legally purchased weed across state lines. Under federal law, marijuana is classed as a Schedule 1 controlled substance, the same as heroin.
McCarran International Airport has installed 13 "marijuana amnesty drop boxes," the Las Vegas Sun reports, so travelers can offload their stash before they go through security. Ten of the "Disposal for Prescription and Recreational Drugs" boxes are located outside the airport, and three are outside the McCarran Rent-a-Car. There will eventually be 20 such boxes installed.
The aptly-colored green boxes are bolted to the ground and are designed in such a way that it's impossible to put your hand in, meaning no one can collect some free ganja at the airport. It isn't clear what happens to all the disposed drugs when the boxes are emptied.
"The drawer pulls out; you drop your stuff in and you close it. You can't really get your hand in there," Christine Crews, McCarran spokesperson said. "If you start tampering with them, you'd be detected pretty quickly."
In Nevada, it's legal to possess up to an ounce (28.34g) of marijuana and an eighth of an ounce of edible marijuana products. Weed was previously banned on all airport property in October.
Think your friends would be interested? Share this story!