Time to make schools harder target for attackers -Trump at CPAC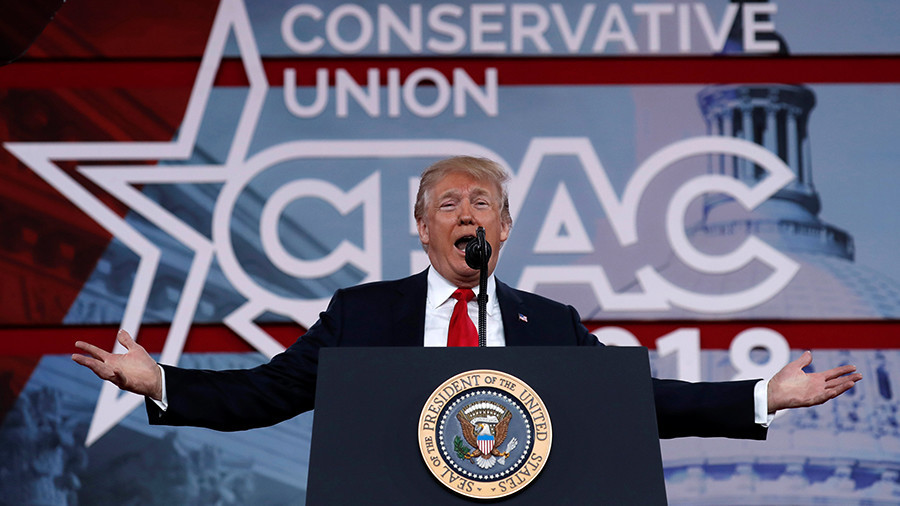 US President Donald Trump pushed for the idea of arming school personnel to protect the facilities from shooters during his speech at the Conservative Political Action Campaign in Maryland on Friday.
"Teacher would have shot the hell out of him (attacker) before he knew what happened," Trump said.

"We want to ensure when there are warning signs they are acted on. We protect our banks, airports, but not our school. It's time to make our schools much harder targets," Trump said.
The idea of having armed teachers at schools was floated by the president this week following the shooting at Stoneman Douglas High School in Parkland, Florida, in which 17 people were killed and many more injured.
In his #CPAC speech, @realdonaldtrump continued to rally behind the @NRA, which contributed $30 million to his campaign efforts. We are done with leaders who care more about their campaign coffers than kids in coffins.

— Chad Griffin (@ChadHGriffin) 23 February 2018
Is Trump forgetting that HE'S THE ONE who put guns back in the hands of the mentally ill a year ago by rolling back an Obama regulation? And now he's talking about guns and the mentally ill? THIS IS MADNESS

— Nancy Giles (@nancygilesnyc) 23 February 2018
Trump said that "well trained, gun adept teachers and coaches, who are adept with weaponry" and have a concealed carry permit will be able to protect schools.
He also reiterated his call to restrict mentally ill people's access to guns. "We have to really strengthen up background checks for the mentally ill. We don't want the mentally ill to have any form of weaponry." he stated.
Trump has faced renewed calls to restrict access to guns following the mass shooting in Florida. Students from the high school have planned a 'March for Our Lives' rally, scheduled to take place on March 24 in Washington to demand tougher action on gun violence from lawmakers.
In the speech, Trump also reaffirmed his commitment to the Second Amendment, which protects the right of US citizens to bear arms. He claimed that Democrats "will take away your Second Amendment, which we never will."
"We want a culture that condemns violence and never glorifies violence," he said. "It's not about do you love guns, do you hate guns."
Think your friends would be interested? Share this story!