Waste of space? NASA's $1bn mobile launch tower may work only once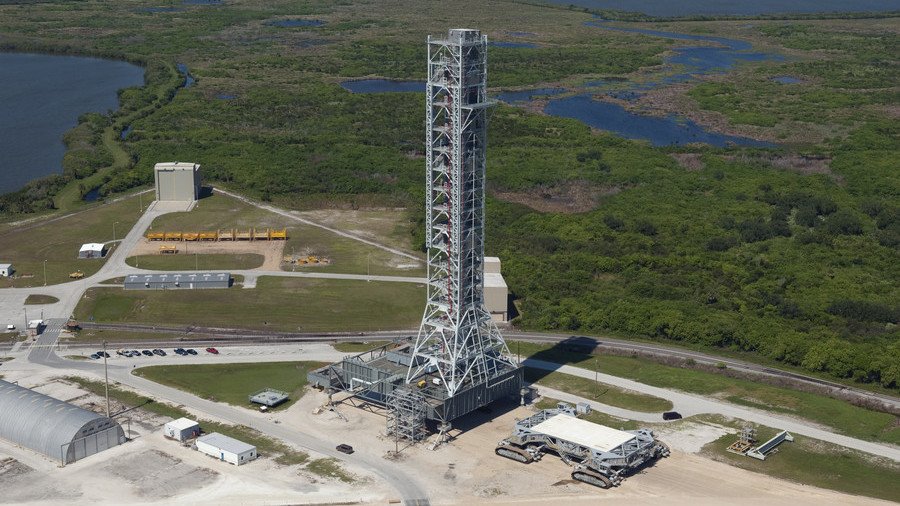 A flaw in the design of NASA's new $1 billion mobile launch tower means the agency is unlikely to get too many proverbial bangs for its buck. Indeed, it may work just the once.
The 400ft Mobile Launcher (ML) had been designed for the now-defunct Ares I rocket but has since been re-purposed for NASA's upcoming Space Launch System (SLS), a heavy-lift rocket for deep-space missions. With the conversion work now complete, officials have noticed the tower has twisted and developed a slight northwards "lean," a fault that reportedly means it will only be good for one or two launches.
Speaking to the website NASA Space Flight, an agency spokesman confirmed the "deflections" but said they are not so dramatic to warrant any corrective action. However, the news does raise doubts about the tower's longevity.
The agency initially spent $234million on the tower in preparation for the Ares I vehicle, which was subsequently scrapped. When the US Congress approved the SLS project in 2011, it was decided that the tower be retrofitted as its launchpad. Initial estimates for the work were costed at $54million but these figures proved to be wildly off the mark with NASA found to have overspent to the tune of $280million. According to the White House budget for 2019, the agency anticipates spending a further $400million on the project before the SLS launches in 2020.
The ML's flaws add urgency to NASA's plans to build a second launcher. After the initial launch of the SLS, the agency plans to launch a second, more powerful, version of the rocket to the outer reaches of the solar system. This second stage SLS will require a larger launcher, meaning NASA may scrap the current structure and start the whole process again.
It's estimated that a second launcher would cost in the region of $300million. A decision on the future of the ML is expected next year.
READ MORE: 'Mysterious' Martian rocks captured by NASA on Red Planet
NASA has been criticized over its waste in the past. In 2013, the Office of the Inspector General released an audit report that said the agency had used a complex and disorganized calculation method that led to $66million in overpayments to contractors.
READ MORE: Mars Rover snaps selfie and takes stunning panorama of Red Planet (PHOTOS, VIDEOS)
More recently, conservative budget hawks have targeted NASA's outlay as a potential source of savings. Earlier this month, the Washington Post reported that the Trump administration wants to hand over some of the operations of the International Space Station to private industry after 2024. The news followed reports in January that the US government was keen to cease funding the ISS to save around $4 billion a year.
You can share this story on social media: