Venezuela's Maduro tweets at Trump offering dialogue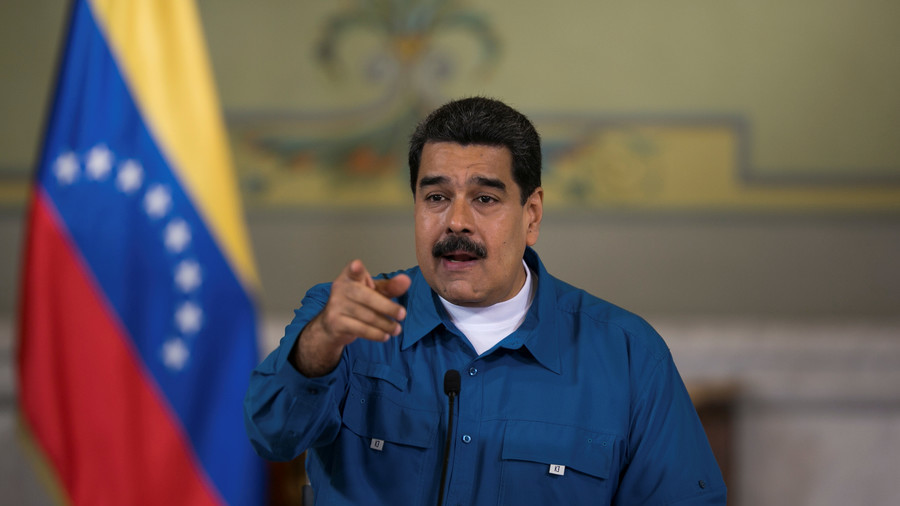 Venezuelan President Nicolas Maduro has proposed holding talks with his US counterpart Donald Trump. Maduro extended the olive branch to Trump on Twitter, the US president's favorite social media site.
Trump "campaigned promising non-interference in the internal affairs of other countries," Maduro tweeted on Monday. "The time has come to fulfill that and change his agenda of aggression to one of dialogue."
.@RealDonaldTrump hizo campaña promoviendo la no intromisión en los asuntos internos de otros países. Llegó el momento de cumplirlo y cambiar su agenda de agresión por una de diálogo. ¿Diálogo en Caracas o Washington DC? Hora y lugar y ahí estaré.

— Nicolás Maduro (@NicolasMaduro) February 19, 2018
"Dialogue in Caracas or Washington DC?" Maduro asked, challenging Trump to name a "time and place and I'll be there." By Tuesday, there was no response to the invitation from either the White House or the US State Department.
Speculation had been rife that the two warring leaders would meet at April's Summit of the Americas in Peru's capital Lima. But last week Peruvian Foreign Minister Cayetana Aljovin announced that her government was withdrawing its invitation to Maduro.
"The break with democracy constitutes an insuperable obstacle to the participation of a state" at the April 13-14 meeting, Aljovin said. The remark came after the so-called 'Lima Group' of 12 Latin American nations, Canada and St. Lucia condemned Venezuela for bringing forward this year's presidential election to April 22 despite objections from the Democratic Unity Roundtable (MUD) opposition.
Maduro courted Trump in the weeks following his 2016 election, despite the Republican candidate's repeated criticism of the socialist government in Caracas. He jokingly calling the US president "comrade" and attempted to draw a parallel between the extensive hostility towards both politicians from mainstream media.
"We will stop racing to topple foreign regimes that we know nothing about, that we shouldn't be involved with," Trump said at a post-election rally in Fayetteville, North Carolina on December 7, 2016. He said the US focus should be on "defeating terrorism and destroying ISIS," rather than "fighting in areas that we shouldn't be fighting in."
Since then, however, Trump's administration has slapped new sanctions on Venezuela, on top of those imposed by the preceding Obama and Bush governments, citing opposition allegations of fraud in several elections last year.
"The socialist dictatorship of Nicolas Maduro has inflicted terrible pain and suffering on the good people of that country," Trump said in his address to the UN General Assembly last September.
Maduro hit back later that day, calling Trump "the new Hitler" at a rally outside the Miraflores presidential palace in Caracas.
You can share this story on social media: