No bull! US woman has 14 worms pulled from eye in 1st known case of infection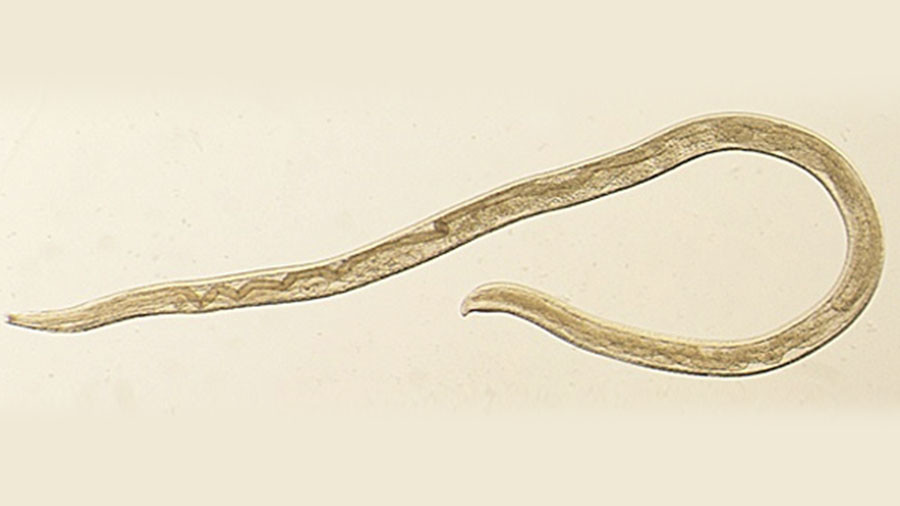 A 26-year-old Oregon woman has earned a place in the medical books as first person in the world to have had an eye infestation by a miniscule worm species previously found only in cattle.
It sounds like something out of a horror movie. As many as 14 translucent parasitic worms of the species Thelazia gulosa, all less than half an inch (1.27 cm) long, were extracted from the woman's eye over a two-week period in August 2016 before her symptoms dissipated.
According to the US Centers for Disease Control and Prevention scientists, this species of Thelazia worm was previously seen in cattle throughout the northern United States and southern Canada.
It means that North Americans may actually be more vulnerable than previously thought to such infections.
"Cases of eye worm parasitic infections are rare in the USA, and this case turned out to be a species of the Thelazia that had never been reported in humans," study lead author Richard Bradbury, who works with the CDC's Division of Parasitic Diseases and Malaria, said in a statement.
"Previously, it was thought that there were only two different species of these (Thelazia) eye worms that infected humans worldwide. Now, we have to add Thelazia gulosa, a third one to the list," he added.
Abbey Beckey was working as a summer deck hand on a commercial fishing boat in Alaska when she tugged several tiny worms from her irritated eye, the Portland Tribune reported.
The young woman initially thought it was a salmon worm that had taken shelter in her eye, but then a doctor in Alaska saw the three worms she had collected in a coffee can lid and reportedly "freaked out." Researchers from the US Centers for Disease Control and Prevention later confirmed that she had contracted Thelazia gulosa.
A year-and-a-half after the revelation, Beckley says she is still taking it all in.
"It was shocking when it happened, and it's just fascinating now," she told the Tribune.
"She's incredibly strong and amazing in the way she handled this," Dr. Erin Bonura, an infectious diseases specialist who treated Beckley in Portland said. "It can be unnerving to pull worms from your eye, but she did it."
Eye worms can be found in a range of animals, including cats, dogs, and wild carnivores like foxes. They are transmitted by different types of flies. As a rule, people affected by eye worms experience inflammation, along with the sensation that there is some foreign body in the eye.
Symptoms usually resolve after the worms are removed. But occasionally, the worms migrate across the surface of the eye. In the worst-case scenario, they can cause scarring of the cornea and even blindness, researchers say.