'Reckless assault on Mother Earth': Seneca Nation fights fracking treatment plant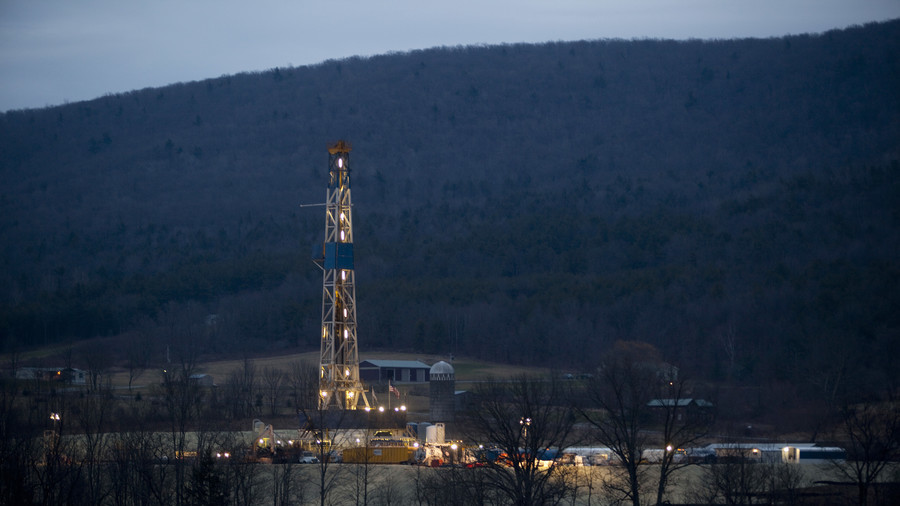 The Seneca Nation has come out against a proposal that would see 42,000 gallons of fracking wastewater dumped in a river in Pennsylvania, in the latest fight between the energy industry and indigenous Americans.
The Pennsylvania Department of Environmental Protection (PADEP) is reviewing the proposal for a fracking wastewater treatment plant by the Allegheny River, upstream from the Seneca Nation territory.
Epiphany Water Solutions and the Coudersport Area Municipal Authority (CAMA) have proposed a fracking wastewater treatment facility to be located next to CAMA wastewater plant in Eulalia Township. The facility would transport, treat and then release the treated wastewater into the river every day. Epiphany will process fracking wastewater from JKLM Energy. The company says the project is safe and risk-free, but locals are not so sure.
"Fracking" or hydraulic fracturing uses high-pressure liquid to break into rocks to extract oil or gas, and each well requires two million gallons of water. In 2015, Pennsylvania's unconventional gas wells produced nearly 1.7 billion gallons of wastewater.
Fracking wastewater contains uranium and other chemicals, which fracking companies are not required to disclose. Fracking is banned in states like New York, Maryland and Vermont. A July study by Pennsylvania State University found treated hydraulic fracking wastewater could pollute water sources for years.
The largest concern is that the treated wastewater will pollute the Allegheny River. The plant is one mile from an elementary school, and 65 miles from the Seneca Nation Allegheny Territory.
In a letter to officials in Philadelphia, Seneca Nation President Todd Gates outlined his reasons why the proposal should be rejected.
"Allowing this plan to move forward would permit poisonous contaminants to travel downstream into New York State and onto the sovereign ancestral lands of the Seneca Nation, which sit upon the Ohi:yo [Allegheny River]," Gates said. "The Seneca people have a deep spiritual connection with the land and we depend on our natural resources, including native plants, trees, wildlife, fish and water. These resources are critical components of our culture. We will zealously defend and protect what remains of our territories and our natural resources, which would be further threatened by this dangerous plan."
Clourdersport resident Georgeanna DeCarlo told the Real News Network that she tried to buy a house across the road from the proposed site 25 years ago, but she was unable to because the land is on a floodplain. "The idea that a fracking facility could be constructed there is preposterous," she said.
Save the Allegheny is a citizens' group formed in response to the proposal. It is concerned about how the plant could affect air quality and its effects on citizens' health. Epiphany has since applied for an Air Quality Exemption Permit, the group said.
"There is no proven technology that allows for the complete treatment of wastewater from fracking, particularly in the Marcellus shale region," Gates said. "Allowing this project to move forward would be a reckless assault on Mother Earth, the resources of the Ohi:yo, the health of thousands downstream, and future generations."
The Seneca Nation protests follow the Standing Rock Sioux tribe fight to preserve their water from an oil pipeline. The Standing Rock protests against Energy Transfer Partners' Dakota Access Pipeline gained international attention as "water protectors" set up camps in April 2016 to protest the construction.
President Barack Obama held up construction in December 2016, but it was approved by the newly inaugurated President Donald Trump, and opened in May 2017. Energy Transfer Partners has since sued Greenpeace and other activists for "eco-terrorism," while the Dakota Access Pipeline spilled hundreds of gallons of oil on three occasions in a space of three months.
If you like this story, share it with a friend!
You can share this story on social media: