Florida fracking fightback: St Petersburg joins push against controversial drilling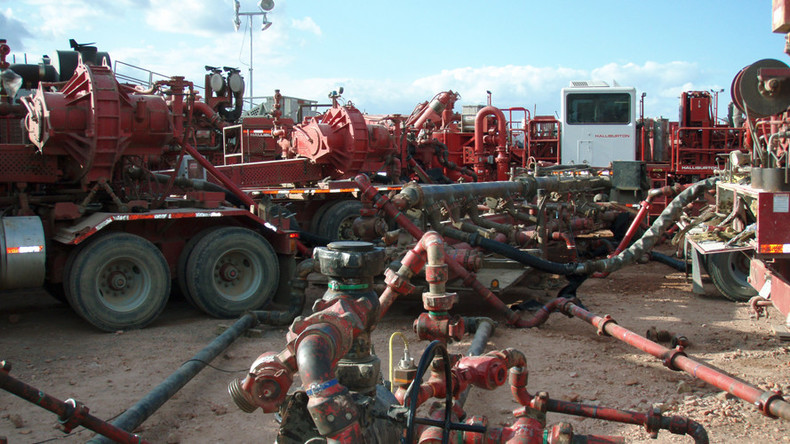 Fracking faces strong opposition in the US city St Petersburg, which is on the verge of joining the more than 80 cities and counties in Florida that ban the controversial drilling method.
Rallying on the steps of their city hall, council members and environmental activists promoted a new ordinance, which will be heard by the public service and infrastructure committee within the next three weeks, according to WMNF.
New research from Environmental Florida unveiled during the event says "fracking laws created as much global warming pollution as 22 coal fired power plants in a single year, and at least 14 billion gallons of wastewater in 2014," said Jennifer Rubiello, director of the advocacy group.
READ MORE: North Dakota contaminated with radioactive materials from fracking – study
Rubiello also criticized new methane regulations introduced by the Obama administration this week as not enough, because it doesn't apply to existing facilities.
Dr Les Cole spoke at the event about the harm fracking causes to public health, with its wastewater linked to cancer, hormone disruption, and immune system dysfunction.
Efforts in the Florida State Senate to "preempt" the local laws was rejected earlier this year, but Vice President Joe Biden still celebrated the profitable polluting process during a speech in nearby Tampa on Wednesday.
The Democrat credited fracking with the increase in domestic gas production in the US, helping to cut the country's trade deficit.
St Petersburg City Council member Karl Nurse rejected these claims, asking the VP to take a look at the price of wind power in the US which "has dropped by two thirds in the last six years, and power use has actually peaked."
Nurse said the US was moving towards renewable energy sources despite "the fossil fuel industry kicking and screaming."
Florida Governor Rick Scott may be one of those "kicking and screaming" as he clings to oil and gas.
The Republican's support for fracking may be driven by personal greed since his blind trust reportedly owns $135,000 worth of stock in Schlumberger, the "world's largest oilfield services company" which promotes a "frack now and pay later" strategy.
You can share this story on social media: