'Crisis mode': Flint kids' reading level falls 75% since lead contamination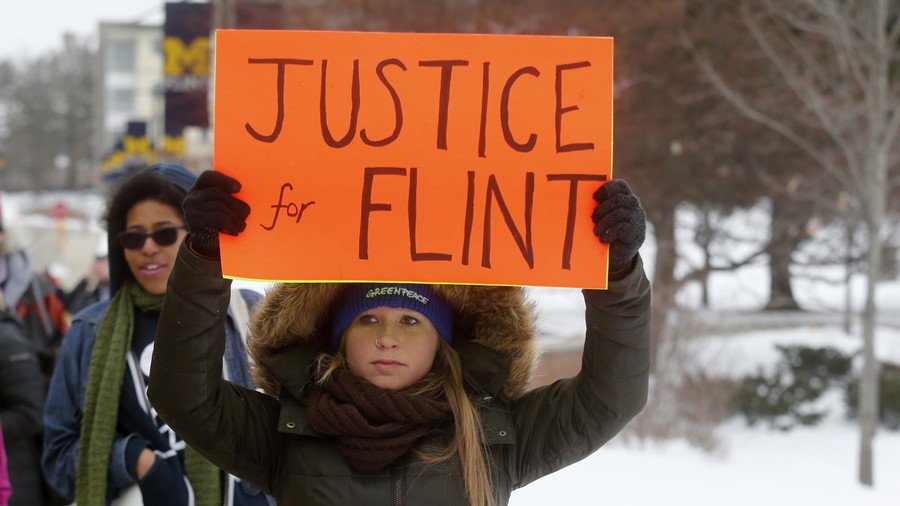 Reading skills in Flint, Michigan are plummeting as the city continues to feel the effects of lead poisoning four years after the water crisis began.
Reading proficiency among third graders in Flint has dropped from 41.8 percent in 2013 to 10.7 percent in 2017.
Flint switched its water supply in April 2014, which sparked the water's lead contamination. Officials failed to adequately treat the water coming from the Flint River, which caused the pipes to corrode, leading to lead contaminating the water. Dangerous levels of bacteria were also found in the water, and an outbreak of Legionnaires' disease killed 12 people.
Lead is a neurotoxin and poisoning can affect a child's IQ, attention span and can stunt their growth and cause behavioral issues.
While reading proficiency has declined across Michigan as a whole, going from 61.6 percent to 44.1 percent between 2013 and 2017, the fall in Flint is more severe.
Just between between 2016 and 2017, reading proficiency scores in Flint dropped by half. Currently only 10 percent of the district's third-graders are considered proficient. When it comes to math, only 10 percent of Flint's third graders are considered proficient, compared to 46.8 percent statewide.
A number of factors contribute to the statewide decline, including increased standards and new testing which were introduced in 2015.
"We're in crisis mode," Flint school board vice president Harold Woodson told the Detroit Free Press. Woodson has placed a nurse in each of the district's elementary schools and is "investing more in looking at the behavior of the children," but warned, "the impact from the lead might not manifest itself for another year or two."
Woodson also highlighted the need to address poverty in the area, which he said contributes to the low scores.
Michigan Superintendent of Education Brian Whiston said the figures are "not acceptable," but pointed to the more difficult exam which was introduced a few years ago as playing a part in the drop.
"I certainly think that some of the [drop in proficiency] could be due to it [lead poisoning]," Whiston told the Free Press. "But some of it could be stress. I'm certainly disappointed that it's at that level. These families have gone through a lot of stress. So I wouldn't be surprised to hear things dropped considerably."
Flint only introduced a registry to assess residents exposed to lead in the water two weeks ago. The city has long been criticized for its failure to address the crisis, and is yet to replace all of the contaminated water pipes in the area.
When Flint residents began complaining about the water looking and tasting different soon after the switch, officials denied there was anything wrong. But further testing revealed dangerous levels of lead in the water, along with rising levels of lead in children's blood. The water supply wasn't switched back until October 2015.
Last year, a group of Flint students filed a lawsuit against the state which accused officials of failing to help children affected by lead poisoning.
You can share this story on social media: