'Bewildering Slavic hall of mirrors': Fox News mocks Schiff over interview with RT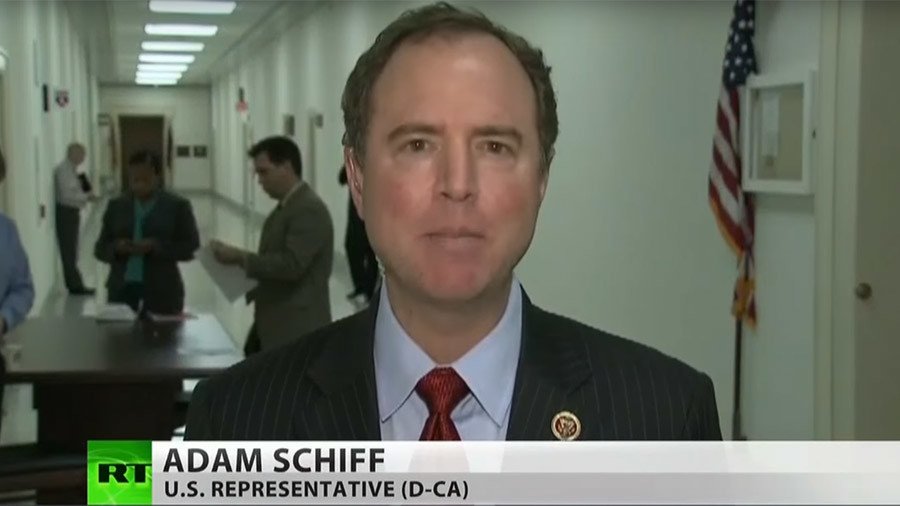 Fox News has mocked Senator Adam Schiff, chief purveyor of anti-Russia histrionics, for allowing himself to be interviewed on RT back in 2013. "The leaders of the witch hunt are witches," said the channel's host Tucker Carlson.
"We've got some stunning news for you about the ongoing Russia investigation. News that will challenge everything you knew about this story," starts Carlson. "Now tonight we've learned that the foreign subversion goes" deeper than Americans thought, he continued. "The Russian conspiracy is so subtle, so crafty, such a bewildering Slavic hall of mirrors, that the very people warning us about Russia are in fact key players in the Russian conspiracy."
A person would be hard-pressed to name another US congressman or woman who propagates more anti-Russia vitriol than Rep. Adam Schiff, the highest-ranking Democrat on the House Intelligence Committee. Yet judging from recently unearthed archival material, it appears Schiff may actually have a soft spot for Russia after all.
The Democrat, who has spent the better part of the last year lecturing Trump over his alleged "Russian connections," apparently had no qualms about cooperating with a Russian TV channel when he agreed to have a lengthy chat with RT in 2013.
"RT is a sinister place, everybody says so," claims Carlson ."Who would go there?"
"None other than one Adam Bennett Schiff."
The irony of the 2013 interview, aside from demonstrating Schiff's breathtaking hypocrisy, is that the subject of debate was the top secret FISA court and how Schiff was working to reform the process for acquiring warrants to spy on Americans. Apparently Schiff's efforts were far from spectacular, however, considering more recent events.
Just last week, the House Intelligence Committee released a declassified memo purporting to show the FBI and Department of Justice getting a warrant to spy on a Trump staffer through the infamous Steele dossier, which was bought and paid for by the Clinton campaign.
In an interview that went over eight minutes, Schiff told RT: "I think (reforms to the FISA court) will have the cumulative effect of making the FISA court much more transparent so the American people can understand what is being done in their name, in the name of national security."
Later in the interview, which can be watched in its entirety below, the Democratic House Intel member provided a less-than-glowing evaluation of the US intelligence community, admitting that "we see, in essence, what the intelligence community wants us to see."
Perhaps the same could be said about the Trump dossier. After all, the FISA court only saw what the FBI and DOJ wanted it to see, which was certainly not that the Clinton campaign had willfully sponsored the misleading document.
To further demonstrate the eccentric political worldview of Rep. Adam Schiff, he just went on record as saying Russians "push the Second amendment so that Americans kill each other."
Schiff, who may even suspect that the Russians were present at the historic signing of that famed document known as the US Constitution, told an audience at the University of Pennsylvania that the Russians "would be thrilled if we were doing nothing but killing each other every day, and sadly we are."
Sleazy Adam Schiff, the totally biased Congressman looking into "Russia," spends all of his time on television pushing the Dem loss excuse!

— Donald J. Trump (@realDonaldTrump) July 24, 2017

Schiff's wild riffs are not always directed solely at Donald Trump and the embattled Republican's alleged collusion with Russia to win the White House. The outspoken Democrat has even lashed out at former President Barack Obama for failing to "punish Russia earlier."
"The [Obama] administration needed to call out Russia earlier, and needed to act to deter and punish Russia earlier … when it became clear that not only was Russia intervening, but it was being directed at the highest levels of the Kremlin," Schiff told CNN in an interview.
To date, it should be emphasized, nobody – least of all Adam Schiff – has presented a single shred of evidence to prove "Russian meddling" in the elections.
Little Adam Schiff, who is desperate to run for higher office, is one of the biggest liars and leakers in Washington, right up there with Comey, Warner, Brennan and Clapper! Adam leaves closed committee hearings to illegally leak confidential information. Must be stopped!

— Donald J. Trump (@realDonaldTrump) February 5, 2018
Meanwhile, it was reported Tuesday that Schiff became the victim of a prank phone call by two Russian comedians, imitating a Ukrainian politician, who said they had photos of Donald Trump carousing with a Russian model.
"I'll be in touch with the FBI about this. And we'll make arrangements with your staff. I think it probably would be best to provide these materials both to our committee and to the FBI," Schiff reportedly commented during the conversation, which lasted around eight minutes.
You can share this story on social media: