'Pig roast' sex contest at Cornell's Jewish fraternity sparks outrage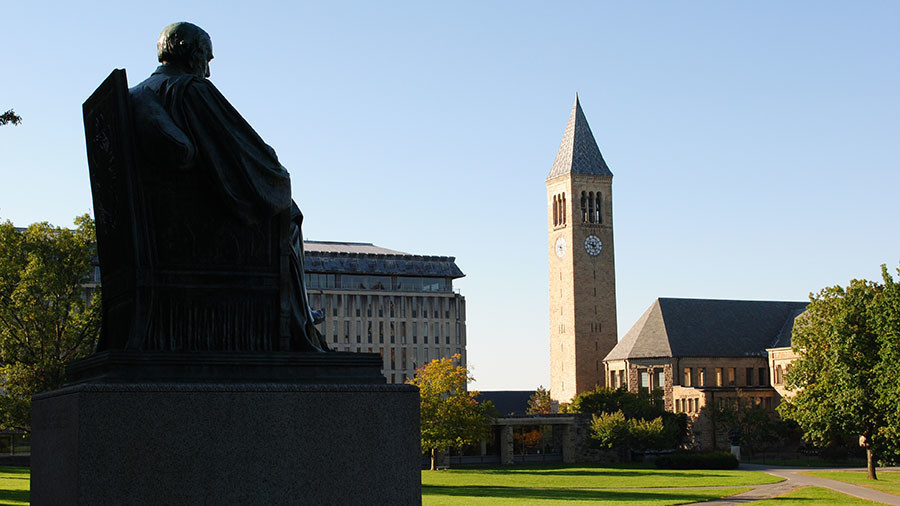 A chapter of the Zeta Beta Tau fraternity has been placed on probation at Cornell University following an investigation into an alleged sex game where new members competed to sleep with the heaviest women they could for 'points.'
After a slew of allegations throughout 2017, the university's Fraternity and Sorority Review Board launched an investigation into the ZBT members' behavior and practices at the Ivy league school located in upstate New York. Pledges were allegedly instructed to keep the contest a secret and, in the event of a tie, the new member who had sex with the heaviest partner won.
"The behavior that Zeta Beta Tau (ZBT) fraternity was recently found responsible for is abhorrent to me and antithetical to our values as a community. Behavior that degrades and dehumanizes women contributes to a climate and culture of tolerance for sexual violence," Vice President for Student and Campus Life Ryan Lombardi told RT.com in a statement.
"While sanctions have been levied against this fraternity by the Fraternity and Sorority Review Board, the campus community will be watching to see whether the members of ZBT – as individuals and as a group – live up to their public pledge to demonstrate through our actions that this inexcusable behavior will not be tolerated," Lombardi added.
"It is incumbent that all members of the Greek system and the campus as a whole challenge any form of sexual misconduct and the behaviors that foster it."
The organization, which claims to be the world's first Jewish fraternity, according to its website, was advised of the investigation in December. Zeta Beta Tau has reportedly been placed on "probationary recognition" for a period of two years following the investigation and has vowed to conduct a membership review and participate in a variety of educational programs about sexual violence.
"The IFC was appalled and disgusted by the activity described in the reports," Interfraternity Council President Paul Russell said, as cited by The Cornell Sun. "The decision about the specific sanctions placed on ZBT was made jointly by administrators and IFC leadership in a review board hearing earlier this year after a hearing and a review of the allegations."
The "allegations described are contrary to the values that Zeta Beta Tau Fraternity espouses and works in direct conflict with the beliefs and missions of the Kappa Chapter," ZBT said in a statement as cited by The Cornell Sun, adding that, "this inexcusable behavior will not be tolerated."
RT.com has contacted both Cornell University authorities and the Zeta Beta Tau fraternity for comment regarding the allegations and subsequent investigation.
The fraternity previously came under fire in January after its University of Michigan chapter was found to be in violation of rules regarding hazing, reports Detroit News. Zeta Beta Tau had already faced similar allegations at UM in 2005. In November, the fraternity's social activities were suspended amid multiple allegations of hazing, drugging and sexual misconduct by its members.
The so-called Greek Life system of fraternities and sororities at third-level educational institutions in the US has come under increased scrutiny in recent years following a number of high-profile cases of hazing, sexual misconduct.
You can share this story on social media: