Safe spaces on campus: University presidents lambast Trump travel ban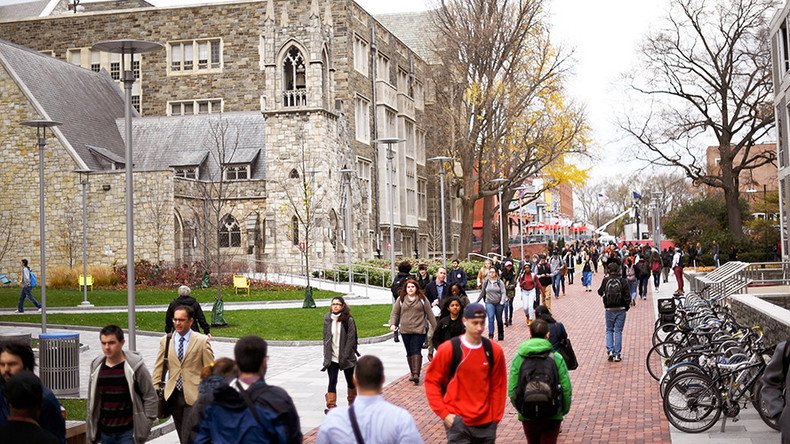 Leaders of America's top universities from California to Ohio are offering protection and sanctuary to their international students in response to President Donald Trump's immigrant travel ban, while calling it "sweeping, indiscriminate and abrupt."
The 62 institutions comprising the Association of American Universities (AAU) released a statement on Saturday urging government officials to end the travel ban "as quickly as possible."
Trump's executive order, signed on Friday, places a 90-day ban on the entry of immigrants from seven nations with Muslim-majority populations: Syria, Iraq, Libya, Iran, Sudan, Somalia and Yemen. The order also puts a temporary hold on refugees entering the US for 120 days and an indefinite hold on the entry of Syrian refugees.
At Northwestern University in Illinois, President Morton Schapiro, remarked "knowledge knows no borders" and denounced the travel ban. He recommended international students from the banned countries to avoid traveling outside of the United States for the time being, offering resources to protect students, faculty and staff.
Stanford University shared that one of its graduate students, returning from a research trip in Sudan, was detained on Friday after the order was signed.
"This graduate student, a legal permanent resident of the United States, was detained for several hours at Kennedy International Airport, and handcuffed briefly, upon trying to return from a research trip," wrote administrators. "While thankfully she was released, we are enormously concerned about the anguish this episode caused our students and her family and what it may suggest for others in similar situations."
Princeton University's President Christopher Eisgruber stated the school was working to help those affected by Trump's order, including "a small number who are currently traveling abroad and face difficulties returning to the United States."
University of Oklahoma President David Boren likewise recommended those persons who might be affected by the executive order to refrain from traveling outside the United States"if they already here, or try to return to the United States as soon as possible if currently outside of the country."
University of California expressed "deep concern for President Trump's executive order: that restricts the ability of our students, faculty, staff, and other members of the UC community from certain countries from being able to enter or return to the United States," wrote Janet Napolitano, President of the University of California; who was also the former Secretary of Homeland Security under President Obama, along with 10 university chancellors.
Cornell University's interim president, Hunter Rawlings in a statement issued on Sunday, called the ban "fundamentally antithetical" with "serious and chilling implications for a number of (Cornell) students and scholars."
Rawlings noted that international students make up 20% of the school's population and promised to protect their "information and records from unauthorized and unlawful intrusion," and not to "function as an agent of the federal government."
The Department of Homeland Security in its quarterly review in November 2016 showed 1.23 million students were in the US under the student and exchange visitor program, a growth of 2.9 percent on the previous year's numbers.
Harvard University president Drew Faust said "the restrictions are already posing barriers to scholars and students seeking to entry the country, and are inhibiting others from pursuing important travel abroad, fearful about their ability to return."
Faust added "We will continue to insist the policymakers take full account of how fundamentally our universities depend on the ability of people to travel across borders without undue constraint."
New York University's President Andrew Hamilton stated "we will not permit federal officials on campus to gather information about immigrants in our community absent a subpoena or similar legal order." Hamilton added that the university's scholarship assistance to non-US-citizens, which is independent of federal financial aid program, "will carry on regardless of changes to immigrant policies."
Pennsylvania State University said no Penn State "students or scholars" from the banned countries are currently traveling abroad but "we support all of you."
In Indiana, the president of the University Notre Dame, Father John Jenkins slammed the order calling its character "sweeping, indiscriminate and abrupt."
Massachusetts Institute of Technology Provost and Vice President Research said the order was already having an impact on its members.
Columbia University's International Students and Scholars Office said the order is clearly "cause for concern."
Oregon State University president Ed Ray sent an email to students entitled "Executive orders are unfair. OSU will remain a sanctuary university."
You can share this story on social media: