SpaceX rocket booster defies laws of gravity to survive extreme water landing (PHOTO)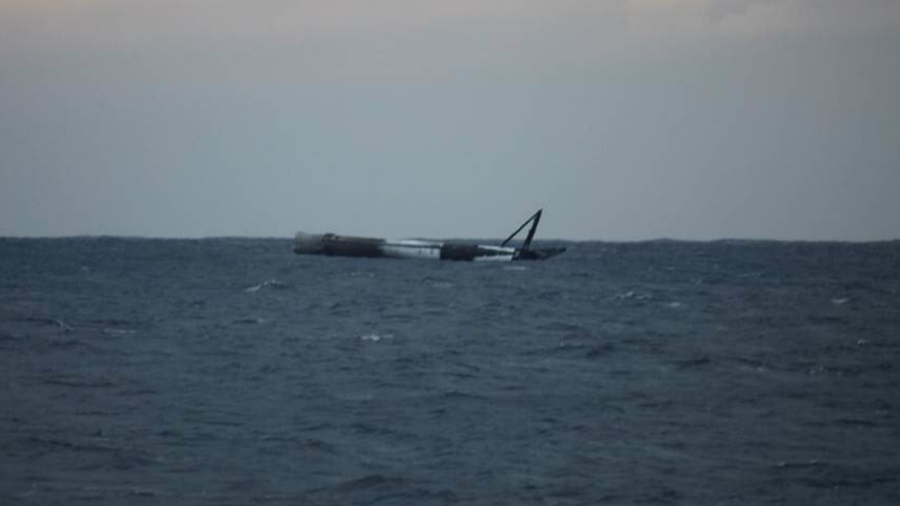 SpaceX's Falcon 9 rocket booster defied the odds and survived a high-powered water landing on Wednesday – surprising even company founder Elon Musk.
The rocket launched a GovSat-1 communications satellite for Luxembourg and satellite operator SES from Cape Canaveral Air Force Station, Florida on Wednesday. SpaceX had decided not to land the Falcon 9's first stage booster on one of its drone ships in the sea, announcing instead that it would not attempt to recover the device after landing.
Musk later explained the rocket was testing a high-powered landing and so the company didn't want to risk damaging one of its floating landing pads. He also confirmed the rocket went through a three-engine landing burn.
However, the rocket somehow survived its extreme return to Earth, and wound up floating in the Atlantic Ocean. Musk wrote on Twitter that SpaceX would retrieve it and try bringing it back to land.
This rocket was meant to test very high retrothrust landing in water so it didn't hurt the droneship, but amazingly it has survived. We will try to tow it back to shore. pic.twitter.com/hipmgdnq16

— Elon Musk (@elonmusk) January 31, 2018
The first stage "splashdown" in the ocean was announced during a live feed of the launch, but the host explained it was not going to be recovered.
"It's weirder to consider we're not actually recovering this one," SpaceX engineer Michael Hammersley said. "Space X has landed about 20 first stages at this point. The goal for each first stage is to last [for] tens of launches in the short term, and hundreds or thousands of launches in the long term."
Although Space X has made a number of rocket booster recoveries, it's normal for rocket boosters to end up in the sea. The Falcon 9 is the only rocket which is partially reusable, as the rocket's first stage is able to land back at the launch site or on one of the company's autonomous drone ships. SpaceX completed its first successful ocean recovery only two years ago.
The booster used in Wednesday's launch, Core 1032, was refurbished, having first been used back in May when it made a successful landing at Cape Canaveral, NASA Spaceflight explains. SpaceX's next launch will be Falcon Heavy in February, the company's newest and largest rocket.
Think your friends would be interested? Share this story!
You can share this story on social media: